Del Mar Photonics - Newsletter
Del Mar Photonics supplies variety of producst from single crystal quartz. Request a quote today!
Featured products:
Customer Inquiry:
Please give us a quote for 50x50x20mm size of Quartz Crystal with its optic axis parallel to the 50mm length. We require this crystal for making Babinet Compensators.
Request a quote for Quartz Crystal for Babinet Compensator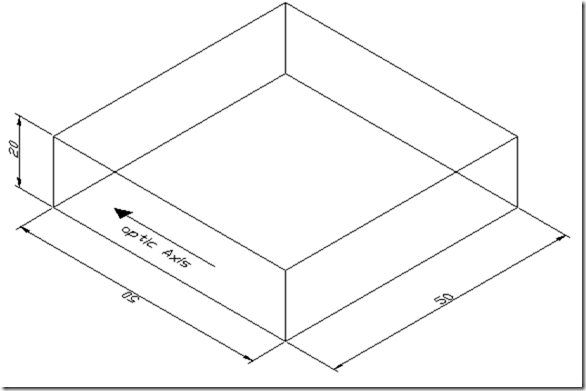 Waveplate - request a quote

Waveplates are used to change the polarization type of the incident radiation by unequally phase-shifting its orthogonally polarized components.
Del Mar Photonics manufactures Multiple Order and Cemented Zero Order Quarter and Half Waveplates from high quality artificial crystal quartz.
Multiple Order Waveplates are fabricated from a single 1 mm thick plate. The retardence at the specified wavelength is equal to an integral namber of waves plus 1/4 or 1/2 λ.
Zero Order Waveplates are made from two individual plates of crystalline quartz, optically contacted with the direction of retardation opposed. The final retardation is the net difference in retardation of the two plates, 1/4 or 1/2 λ.

| | |
| --- | --- |
| Achromatic λ/2 waveplate | Achromatic λ/4 waveplate |

Standard specification - request a quote

Material Crystal Quartz
Design wavelength Waveplate can be designed and fabricated at any
wavelength between 250 and 1550 nm
Diameter Ø 12.7 and Ø 25.4 mm
Thickness L Multiple: ~1 mm
Zero Order: ~2 mm
Tolerance Diameter: +0.0/-0.25 mm
Surface Quality S/D 10/5
Wavefront distortion λ/10 @ 633 nm
Parallelism Multiple: < 1 arcsec
Cemented zero order: < 30 arcsec
Optically-contacted zero order: < 1 arcsec
Reterdation tolerance λ/300 at 22°C
Bevels None
Chips < 0.4 mm
AR coating R < 0.25% @ designed wavelength
Max. handling power Multiple: 200 MW/cm2, pulsed
Cemented zero order: 1 W/cm2, CW
Optically-contacted zero order: 200 MW/cm2, pulsed
Quartz waveplates
Multiple Order and Cemented Zero Order Quarter and Half Waveplates
custom - Optical contact zero order waveplate - Cemented zero order waveplate - Multi order waveplate - Air-space zero order waveplate - Achromatic waveplate for 400-700nm and 700-900nm