Del Mar Photonics - Newsletter Fall 2010 - Newsletter Winter 2010
Calcium Fluoride (CaF2) prisms

Del Mar Photonics supply a variety of standard and custom Calcium Fluoride windows, lenses and prisms as well as other optical elements.
Calcium Fluoride is used for optical windows, lenses and prisms in the transmission range 0. 15 µm to 9 µm. The refractive index varies from about 1. 7 to 1. 3 in this wavelength range. Calcium Fluoride is particularly popular for high power laser optics in the IR less than 6 micron because of its low absorbtion. Degradation due to moisture in the atmosphere is minimal, and polished surfaces may be expected to withstand several years exposure to normal atmospheric conditions. Due too its low refractive index, Calcium Fluoride can be used without an anti-reflection coating.
Calcium Fluoride is attacked by atmospheric moisture at 600C, where it begins to soften. The top use temperature is 800C, when moisture is not present. Irradiation of Calcium Fluoride causes some loss in UV transmission. The material is sensitive to thermal shock.

Below is an example of custom Calcium Fluoride prism as well as references to our standard items. To request custom quote for precision optical component please e-mail us detailed specifications and drawings or check our online store for standard components available in stock.
Example of custom made Calcium Fluoride prism: Part number: CaF2_Prism_72_69.7_38.6_BBAR_3_5
CaF2 equilateral prism
Size (tolerance +0.0/-0.10 mm)
Base : 38.6 mm
Height: 69.7 mm
Thickness: 72.0 mm
Angles: 2 x 75.53 ° (±0.50°) and 1 x 28.94 ° (±0.10°)
2 surfaces polished to SQ 60-40s/d, other fine ground
SF: Lambda/4 @ 3 microns per 25 mm
Pyramidal error: 0.1 degree
Clear aperture: 70 mm
Bevels: all edges 45 deg x 0.25 mm F.W.
Polished surfaces: AR coated at 3.0 – 5.0 microns, R<1% for AOI= 0 - 35°

Example of standard Calcium Fluoride prism:
Dispersion prism, IR grade CaF2, 15x15x15x10 mm - request a quote
Del Mar Photonics - Del Mar Photonics featured customer Dennis Hore writes:

Our group works to characterize the interaction of biomolecules with solid surfaces. Nature designs proteins with well-defined structures
in solution. The conformation of these molecules may serve a structural purpose, or a chemical one in the case of enzymes. In order to further the progress of technologies that immobilize such molecules on synthetic surfaces (like biosensors employing enzymes), it is important to have a detailed understanding and control of the interactions of these molecules with the surface.

We use a variety of optical techniques along with computer modeling to achieve such a detailed molecular-level understanding. One of the
optical methods employed in our lab is a nonlinear technique: visible-infrared sum-frequency generation spectroscopy. Here a fixed-wavelength visible (532 nm) and tunable-infrared (2-10 microns) laser are spatially- and temporally-overlapped at the solid-solution interface under investigation. Under the right symmetry conditions, new photons are created with a frequency that corresponds to the sum of the two incident frequencies. We then characterize this new beam to work back towards the structure of the interface, which in turn provides information on the adsorbed biomolecular structure. A practical aspect of this experiment is that sample optics must be transparent in the visible, and throughout the mid-infrared region.
For this we use calcium fluoride (CaF2) prisms. Del Mar Photonics has provided high-quality prisms with custom shapes according to our drawings. One of the photos shows a close-up view of our sample cell. It is an aluminum block with internal plumbing for circulating water to maintain a constant temperature for the experiment. Inside this block there is a teflon cell that contains the analyte solution. An o-ring on the face of the cell interfaces to a CaF2 prism which forms the prism-solution (solid-liquid) interface on which the biomolecules are adsorbed. In the photo, one can see a hemi-cylindrical CaF2 prism in place. This allows the visible and infrared beams to be incident at any angle, while maintaining a horizontal plane-of-incidence.
| | |
| --- | --- |
| | |
A second experiment uses linear optical techniques to measure all 16 elements of the 4x4 Mueller matrix of the solid-liquid interface.
This provides information on the surface roughness, thickness of the adsorbed layer, complex dielectric constant, and any anisotropy. We
employ the same sample cell design for this experiment, using either 45-deg, 60-deg, or hemicylindrical prisms. In cases where the Mueller
matrix characterization is performed for visible wavelengths only, we use fused silica prisms. For infrared-only measurements, we use zinc
selenide (ZnSe) prisms. Del Mar has been able to manufacture all shapes of prisms from CaF2, fused silica, and ZnSe according to our
custom specifications.
Dennis Hore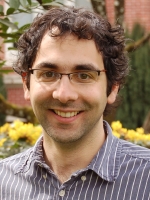 To request custom quote for precision optical component please e-mail us detailed specifications and drawings or check our online store for standard components available in stock:
| | | | |
| --- | --- | --- | --- |
| Model | Product Name+ | Price | Buy Now |
| PH-ZnSe-25.4-12.7 | ZnSe hemicylindrical prism, 25.4 mm | $1,350.00 | |
| W-ZnSe-60-3-K | ZnSe window, ø60 mm, tckn. 3 mm, coated | $620.00 | |
| W-ZnSe-12.7-1 | ZnSe window, ø12.7 mm, thickn. 1 mm | $90.00 | |
| W-ZnSe-25.4-3 | ZnSe window, ø25.4 mm, thickn. 3 mm | $110.00 | |
| W-ZnSe-76.2-3-K | ZnSe window, ø76.2 mm, tckn. 3 mm, coated | $700.00 | |