The 14th Coherent Laser Radar Conference (CLRC) is scheduled for July 8, 2007, through July 13, 2007, at The Silvertree Hotel of Snowmass, Colorado. The meeting will be hosted by the Universities Space Research Association (USRA). agenda
FEMTOSECOND LASER RELATED PRESENTATION:
Nathan Newbury, National Institute of Standards and Technology,
Boulder, "Lidar with Femtosecond Fiber-Laser Frequency Combs"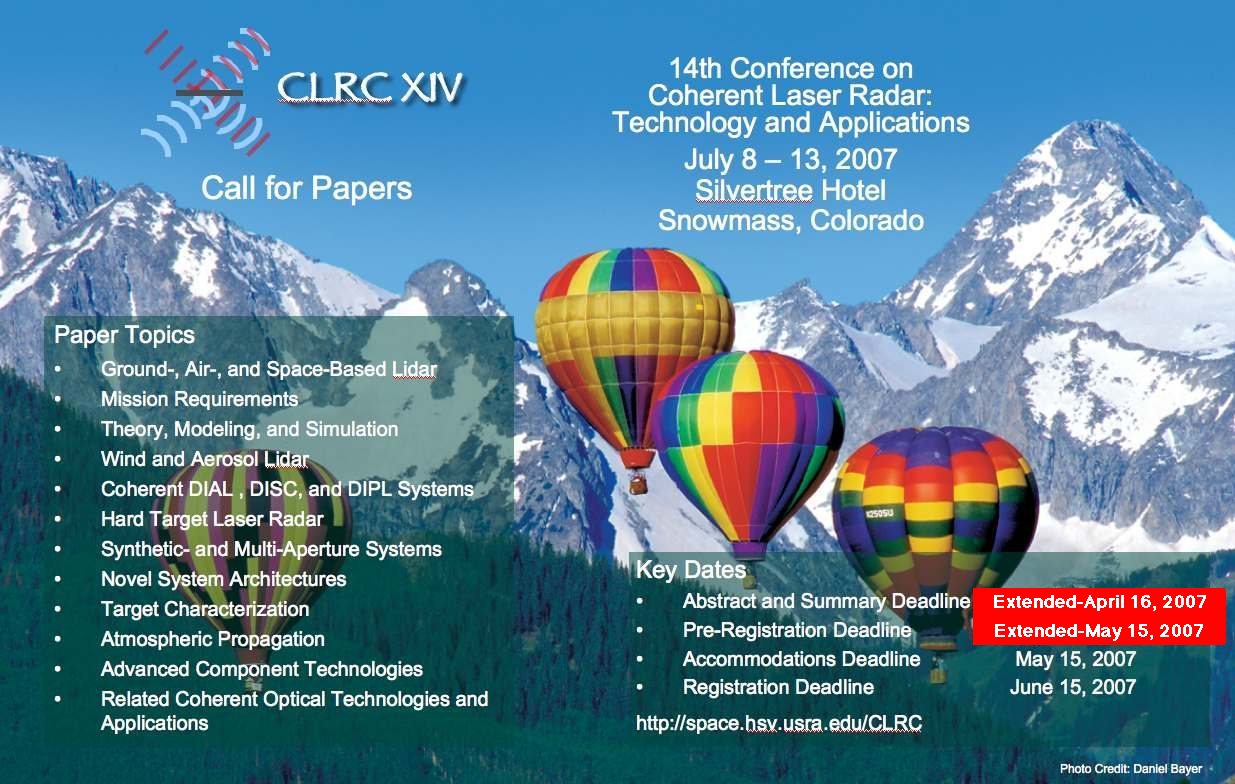 Below is a list of paper topics to be considered for the conference.

Requirements
Wind and hard target applications
Laser Radar Theory, Modeling, and Simulation
Atmospheric propagation
Target or aerosol backscatter
Coherent or direct detection statistics
Comparison of coherent and direct detection laser radar systems
Theory, model prediction, and experiment comparison
For both aerosol and hard targets
Ground and Airborne Wind Lidar Systems (Design, Measurements, Applications)
General wind and aerosol measurements
Wake vortex detection and tracking
Airport wind hazards
Clear air turbulence
Space-Based Lidar (Design and Performance Predictions for both Coherent and Direct Detection)
Winds
Atmospheric greenhouse gases
Coherent DIAL Systems
Atmospheric CO2, other molecules
Pollution detection and tracking
Chemical and biological detection and characterization
Hard Target Laser Radar
Detection, tracking, and discrimination
Proximity operations, machine vision
3D imaging
Precision velocity and vibration measurements
Novel Systems
Coherent Geiger-mode detection laser radar systems
Comparison of Geiger and linear mode systems
Operation at novel coherent wavelengths (e.g., TeraHertz or UV)
Synthetic and Multiple Aperture Coherent Laser Radar Systems
Optical phased array transmitters
Phase coherent multiple pixel receivers
Speckle imaging
Advanced Component Technologies
Transmitters
Receivers
Novel optics / optical integrated circuits
Space qualified lidar components
Advanced signal processing
Hardware and software
Novel algorithms
Target Characterization
Calibrated targets
Speckle, signal statistics, cross section
Related Coherent Optical Technologies and Applications
Telecom
Biological imaging systems
Other novel applications of coherent optical technologies and systems
Contact Information:
Debra Hallmark, Logistics Coordinator
Universities Space Research Association
6700 Odyssey Drive, Suite 203
Huntsville, Alabama 35806
ph: (256) 971-0240
fax: (256) 971-0241
dhallmark@usra.edu
Tamarack Femtosecond Er-doped fiber laser (around 1560 nm)
Buccaneer Er-doped Femtosecond OA Fiber Laser (1560nm)
Buccaneer SHG (780nm) femtosecond fiber lasers
SHG unit for femtosecond fiber lasers
Cannon Ultra-Broadband Light Source
Femtosecond Fiber Lasers from Del Mar Photonics - Er - Yb (pdf)