Sergey Egorov crossing the finish line at the Rock-n-Roll Marathon in San Diego, CA: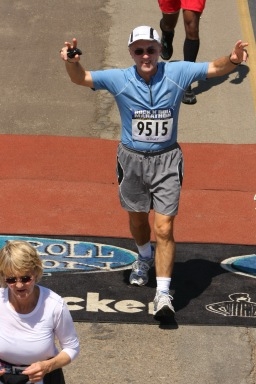 Rock 'n' Roll Marathon rolls through San Diego

By Entertainment Guide staff
SIGNONSANDIEGO

Approximately 20,000 runners and walkers will participate in San Diego's annual Rock 'n' Roll Marathon on Sunday, June 1. The race is billed as one of America's fastest and most scenic courses, racing around Balboa Park, downtown and Mission Bay.

The course
The marathon, which debuted a new course in 2005 to minimize interference with the trolley lines, starts on the edges of Balboa Park, snakes around downtown's Petco Park, Gaslamp Quarter and Harbor Drive before heading north and west toward Mission Bay, looping counterclockwise, and ending in Point Loma. Start time is 6:30 a.m. (wheelchair start is 6:25 a.m.) on Sixth Avenue.

The finish line
The Marine Corps Recruit Depot serves as this year's finish line and festival area. Organizers advise families to make a post-race plan to meet on the designated "Family Reunion" grass area within the Finish Line Festival boundaries. Look for A-Z signs to locate your favorite runner.


Multimedia

Cheerleaders, running Elvises and more: Experience the sights and sounds from a past Rock 'n' Roll Marathon.





The 'Rock 'n' Roll'
True to the marathon's name, more than 40 bands — including the KneeHighs, West of Memphis, the Bayou Brothers, Double Wide and dozens more — are scheduled to brave early morning hours along the 26.2-mile course. Pat Benatar headlines a post-race concert at Qualcomm Stadium later in the evening.

The roads
The race will affect freeways, trolley lines, bus routes and other modes of transport. For details on detours and road closures, visit www.sdcommute.com and the marathon's site.

More for spectators: Organizers suggest that spectators arrive by 10 a.m. to park at the Airport Authority parking lot near the finish line at the Recruit Depot and to allow about 30 minutes to get through the security checkpoint.

Find all the official details on the Rock 'n' Roll Marathon site.