Del Mar Photonics - Newsletter Fall 2010 - Newsletter Winter 2010
New thin GaP crystals from stock!

GaP, (110) cut, 10x10 mm aperture ,both sides polished, unmounted
0.1 thick plates - request a quote
0.05 thick plates - request a quote

Additional cost for crystals mounted in dia.1'' holder is $90


| | | |
| --- | --- | --- |
| Model | Product Name+ | Buy Now |
| CR-GaP-10-10-0.5 | GaP crystal, 100-cut, 10x10x0.5 mm | |
| CR-GaP-10-10-0.1 | GaP crystal, 110-cut, 10x10x0.1 mm | |
| CR-GaP-10-10-0.2 | GaP crystal, 110-cut, 10x10x0.2 mm | |
| CR-GaP-10-10-0.3 | GaP crystal, 110-cut, 10x10x0.3 mm | |
| CR-GaP-10-10-0.5 | GaP crystal, 110-cut, 10x10x0.5 mm | |
| CR-GaP-10-10-1 | GaP crystal, 110-cut, 10x10x1 mm | |
| CR-GaP-10-10-4 | GaP crystal, 110-cut, 10x10x4 mm | |
| CR-GaP-10-10-5 | GaP crystal, 110-cut, 10x10x5 mm | |
| CR-GaP-10-8-0.15 | GaP crystal, 110-cut, 10x8x0.15 mm | |
| CR-GaP-19-19-0.2 | GaP crystal, 110-cut, 19x19x0.2 mm | |
| CR-GaP-19-21-0.3 | GaP crystal, 110-cut, 19x21x0.3 mm | |
| CR-GaP-5-5-0.1 | GaP crystal, 110-cut, 5x5x0.1 mm | |
| CR-GaP-5-5-0.25 | GaP crystal, 110-cut, 5x5x0.25 mm | |
| CR-GaP-5-5-0.85 | GaP crystal, 110-cut, 5x5x0.85 mm | |
| CR-GaP-8-8-0.2 | GaP crystal, 110-cut, 8x8x0.2 mm | |
Ultrathin GaP crystals - request a quote
Example
GaP crystal part number GaP_10_10_0.002_3 - request a quote
GaP <110> crystal with a thickness of 200μm optically contacted on GaP <100> sustrate with a thickness of 3mm

Aperture, mm 10 x 10 +/-0.1
Thickness, mm 0.2 +/-10%
Substrate thickness, mm 3 +/-10%
Orientation 110
Surface quality, scr-dig 40-20
Flatness, waves at 633 nm - 1 lambda
Parallelism, arc min < 3
Certificate of confirmity (actual)
Application - generation of T-rays (THz radiation, terahertz)
Del Mar Photonics supply variety of crystals for THz generation, including ZnTe, GaP, GaSe, LiNbO3 and others
Featured customer: University of Bordeaux, France
COLA1 specifications in the CPMOH.
COLA1 in the CPMOH is operational since the second quarter of the year 2008.

This platform is built around an (2x4.5 mJ) amplified femtosecond Ti: Al2O3 laser that supplies two Infrared beams lines which deliver at 1 kHz repetition rate, 50fs pulses, centered at 800 nm that have energy close to 4.5 mJ.

2.1. Tunable femtosecond beams.
The first beam line is exclusively dedicated to spectroscopic measurements. It includes two Optical Parametric Amplifiers ("TOPAS-C"). Each of them is pumped with 1 mJ. They generate tunable beams from 240 nm up to 22µm. The rest of the energy can be used directly at 800 nm, it can be injected in frequency doubling and tripling. These different supplied wavelengths can be used to excite electronic and vibration modes of many molecules with a great temporal dynamic ranging from few tens of femtoseconds up to hundreds of picoseconds.


2.2. T-Rays.
The second beam is dedicated to THz Time Resolved Spectroscopy and it deserves several THz experiments.
Among these setups, one is a spectroscopic bench used to characterize materials in the 100 GHz to 3.5 THz spectral range. This last one is synchronized with two other Optical Parametric Amplifiers TOPAS which deliver tunable optical beams in between 240 nm and 11µm. Thus this system makes possible to carry on optical pump / THz probe experiments. Its originality is the use of tunable femtosecond laser light that excite materials and measure their response in the THz domain frequencies.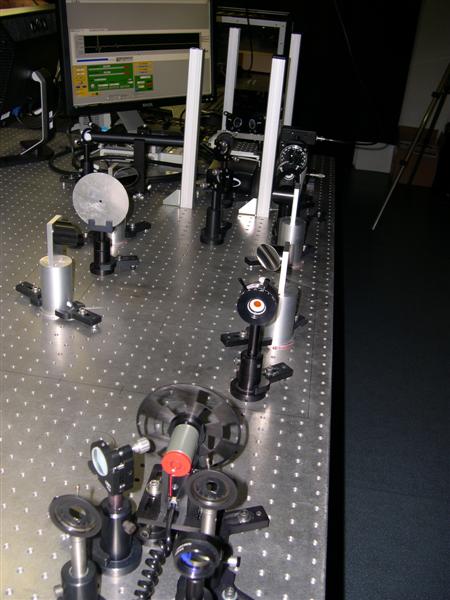 broadband THz bench. Frequency range 100 GHz – 3.5 THz


2.3. Detection tools.
We are able to characterize all kinds of samples (solid, liquid, crystal or gas), and we use many detection systems adapted to the different wavelength ranges. The beams lines are equipped with spectrometers, lock-in amplifiers, data acquisition cards, photodiodes and pyroelectric detectors…

THz setups from Del Mar Photonics
Trestles Pacifica THz Time Domain Spectrometer is a modular tabletop system for scientific and industrial applications of pulsed THz radiation.
New THz band pass and long pass optical filters based on porous silicon and metal mesh technologies
Terahertz products from Del Mar Photonics
GaP crystals fro THz generation - ZnTe crystals for THz generation

Del Mar Photonics, Inc.
4119 Twilight Ridge
San Diego, CA 92130
tel: (858) 876-3133
fax: (858) 630-2376
Skype: delmarphotonics
sales@dmphotonics.com
www.twitter.com/TiSapphire