Del Mar Photonics - Greyhawkoptics
Supplier of optical components, crystals, optical instruments, sensors and detectors. Online store features windows, prisms, lenses, attenuators, etalons, crystals and wafers, and other items. Axicons, barium fluoride windows, germanium etalons, rutile coupling prisms, microchannel plates and detectors, saturable absorber mirrors, photoconductive THz antennas, lithium niobate wafers and crystals and many other high quality affordable components for scientific research and OEM production are delivered globally from stock.
Detectors & Sensors
Femto optics
Optical components
Optical crystals
Optical instruments
Software
Featured on Optics.org
Precision titanium dioxide (rutile) coupling prisms
Updated: 13 March 2007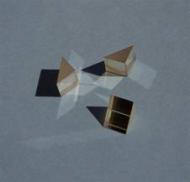 Precision titanium dioxide (rutile) coupling prisms
Greyhawk Optics offers optical elements made of high quality synthetically grown Rutile Titanium Dioxide crystals. Rutile's strong birefringency, wide transmission range and good mechanical properties make it suitable for fabrication of polarizing cubes, prisms and optical isolators. Boules having high optical transmission and homogenity are grown by proprietary method.
Typical boules have 10 - 15 mm in dia. and up to 25 mm length. Optical elements sizes - from 2 x 2 x 1 mm to 12.7 x 12.7 x 12.7 mm. Laser grade polish quality is available for finished elements. So far we the largest elements that we manufactured are 12 x15 x 5 mm, in which optical axis is parallel to 15 mm edge, 5 mm is along beam path, 12 x 15 mm faces polished 20/10 S/D, one wave flatness, parallelism < 3 arc.min. (better specs. available on request).
Standard Specifications (buy online):
Rutile (TiO2) coupling prism
Material: single crystal TiO2
Sizes: 5x5x5 mm +/- 0.2 mm
Angles:45-45-90 deg.+/-10 arcmin
Polish quality: 20/10Scratch/Dig
Surface flatness: lambda @ 633nm
Parallelism: < 5arcmins
Orientation: Z-axis along prism thickness +/- 15 arcmin
Axicon
Axicon lens also known as conical lens or rotationally symmetric prism is widely used in different scientific research and applications. Axicon can be used to convert a parallel laser beam into a ring, to create a non-diffractive Bessel beam or to focus a parallel beam into long focus depth. Greyhawkoptics supplies axicons with cone angles range from 140° to 179.5° for use with virtually any laser radiation.

Below we present two examples of axicon applications in optical trapping experiments.

Research group of Prof. Wendell T. Hill, III at the University of Maryland is focused on creation elements of atom optics, beam splitters and beam switches, out of hollow laser beams. Dark hollow laser beams made using axicons provide an ideal optical trap to channel cold atoms. Visit group web site to see ultra-cold atoms falling under gravity while being confined by a hollow laser beam. Researches also plan to use these guides for enhancing atom interferometers. [1]

Research team at St.Andrews University in the UK published an article in the Sept. 12 issue of Nature that describes axicon use in optical tweezers. Optical tweezers are commonly used for manipulating microscopic particles, such as cells, colloids etc. Researches demonstrated that tweezers employing lasers with a Bessel beam profile produced by illuminating an axicon with a gaussian beam, can trap several particles along the beam's axis. [2]

[1] Prof. Wendell T. Hill, III group at the University of Maryland http://www.ipst.umd.edu/Hill_Lab/
[2] V. Garcés-Chávez, D. McGloin, H. Melville, W. Sibbett, K. Dholakia
Simultaneous micromanipulation in multiple planes using a self-reconstructing light beam Nature 419, 145 - 147 (12 Sep 2002) Letters to Nature.


| | | | |
| --- | --- | --- | --- |
| Model | Product Name+ | Price | Buy Now |
| AX-BK7-1-165-C | Axicon, BK-7, diam. 1", cone angle 165°, BBAR 1000-1400 nm | $350.00 | |
| AX-BK7-1-165-1 | Axicon, BK-7, diam. 1", cone angle 165°, BBAR 400-700 nm | $350.00 | |
| AX-BK7-1-175-0 | Axicon, BK-7, diam. 1", cone angle 175°, uncoated | $290.00 | |
| AX-FS-1-140-1 | Axicon, UV FS, diam. 1", cone angle 140°, BBAR 400-700 nm | $350.00 | |
| AX-FS-1-140-C | Axicon, UV FS, diam. 1", cone angle 140°, BBAR 660 nm | $350.00 | |
| AX-FS-1-140-2 | Axicon, UV FS, diam. 1", cone angle 140°, BBAR 700-1000 nm | $350.00 | |
| AX-FS-1-140-3 | Axicon, UV FS, diam. 1", cone angle 140°, BBAR 800&1064 nm | $350.00 | |
| AX-FS-1-140-0 | Axicon, UV FS, diam. 1", cone angle 140°, uncoated | $290.00 | |
| AX-FS-1-160-4 | Axicon, UV FS, diam. 1", cone angle 160°, BBAR 1100-1600 nm | $350.00 | |
| AX-FS-1-160-1 | Axicon, UV FS, diam. 1", cone angle 160°, BBAR 400-700 nm | $350.00 | |
| AX-FS-1-160-0 | Axicon, UV FS, diam. 1", cone angle 160°, uncoated | $290.00 | |
| AX-FS-1-165-4 | Axicon, UV FS, diam. 1", cone angle 165°, BBAR 1100-1600 nm | $350.00 | |
| AX-FS-1-165-1 | Axicon, UV FS, diam. 1", cone angle 165°, BBAR 400-700 nm | $350.00 | |
| AX-FS-1-165-3 | Axicon, UV FS, diam. 1", cone angle 165°, BBAR 800&1064 nm | $350.00 | |
| AX-FS-1-165-0 | Axicon, UV FS, diam. 1", cone angle 165°, uncoated | $290.00 | |
| AX-FS-1-170-4 | Axicon, UV FS, diam. 1", cone angle 170°, BBAR 1100-1600 nm | $350.00 | |
| AX-FS-1-170-1 | Axicon, UV FS, diam. 1", cone angle 170°, BBAR 400-700 nm | $350.00 | |
| AX-FS-1-170-0 | Axicon, UV FS, diam. 1", cone angle 170°, uncoated | $290.00 | |
| AX-FS-1-175-4 | Axicon, UV FS, diam. 1", cone angle 175°, BBAR 1100-1600 nm | $350.00 | |
| AX-FS-1-175-1 | Axicon, UV FS, diam. 1", cone angle 175°, BBAR 400-700 nm | $350.00 | |
| | | | |
| --- | --- | --- | --- |
| AX-FS-1-175-2 | Axicon, UV FS, diam. 1", cone angle 175°, BBAR 700-1000 nm | $350.00 | |
| AX-FS-1-175-3 | Axicon, UV FS, diam. 1", cone angle 175°, BBAR 800&1064 nm | $350.00 | |
| AX-FS-1-175-0 | Axicon, UV FS, diam. 1", cone angle 175°, uncoated | $290.00 | |
| AX-FS-1-178-4 | Axicon, UV FS, diam. 1", cone angle 178°, BBAR 1100-1600 nm | $350.00 | |
| AX-FS-1-178-2 | Axicon, UV FS, diam. 1", cone angle 178°, BBAR 700-1000 nm | $350.00 | |
| AX-FS-1-178-3 | Axicon, UV FS, diam. 1", cone angle 178°, BBAR 800&1064 nm | $350.00 | |
| AX-FS-1-179-4 | Axicon, UV FS, diam. 1", cone angle 179°, BBAR 1100-1600 nm | $350.00 | |
| AX-FS-1-179-2 | Axicon, UV FS, diam. 1", cone angle 179°, BBAR 700-1000 nm | $350.00 | |
| AX-FS-1-179-3 | Axicon, UV FS, diam. 1", cone angle 179°, BBAR 800&1064 nm | $350.00 | |
| AX-FS-1-179-0 | Axicon, UV FS, diam. 1", cone angle 179°, uncoated | $290.00 | |
| AX-FS-2-140-2 | Axicon, UV FS, diam. 2", cone angle 140°, BBAR 700-1000 nm | $700.00 | |
| AX-FS-2-160-C | Axicon, UV FS, diam. 2", cone angle 160°, BBAR 800-1000 nm | $700.00 | |