Del Mar Photonics
Germanium windows and etalons from stock
Rain erosion resistant coating -
Diamond-like carbon coatings (DLC)
Being applied to Germanium or Silicon windows and lenses DLC provides BBAR performance coupled with excellent protection of outer optical surfaces from negative influences of the environment (humidity, dust, atmospheric precipitations) and stays inert to mechanical strikes, thermal shock, acids, salts, solvents and other chemical reagents. It consists of carbon and hydrogen. Field of application is military devices and outside thermal cameras. Sometimes it's better to have window and lenses coated DLC+BBAR. DLC coatings can be applied to Ge and Si substrates of sizes as big as 320mm in diameter.



| | | | |
| --- | --- | --- | --- |
| Substrate | Wavelength, microns | Average transmission T, % | AOI, deg |
| Si, Ge | 3-5 | >94 | 0 |
| Ge | 8-12 | >85 | 0 |

One sided DLC coating optimized for Ge substrate.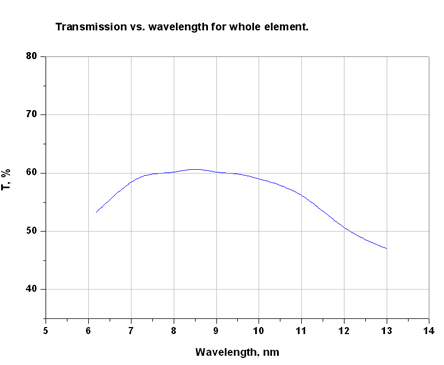 Double sided DLC coating on Ge substrate.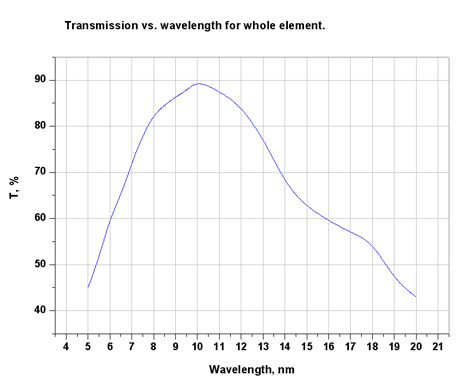 AR/DLC coating on Ge substrate.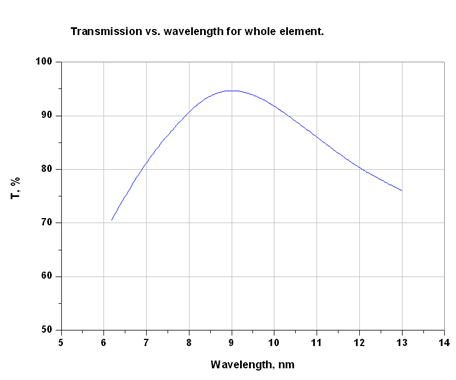 Germanium windows and etalons from stock
Del Mar Photonics supply infrared optics from other materials including ZnSe, Germanium, Barium Fluoride, Calcium Fluoride IR grade and many others. E-mail us for custom quote or check our online store for items available in stock.
We also offer Diamond-like carbon coating
| | | | |
| --- | --- | --- | --- |
| Model | Product Name+ | Price | Buy Now |
| PH-ZnSe-25.4-12.7 | ZnSe hemicylindrical prism, 25.4 mm | $1,350.00 | |
| W-ZnSe-60-3-K | ZnSe window, ø60 mm, tckn. 3 mm, coated | $620.00 | |
| W-ZnSe-12.7-1 | ZnSe window, ø12.7 mm, thickn. 1 mm | $90.00 | |
| W-ZnSe-25.4-3 | ZnSe window, ø25.4 mm, thickn. 3 mm | $110.00 | |
| W-ZnSe-76.2-3-K | ZnSe window, ø76.2 mm, tckn. 3 mm, coated | $700.00 | |
Germanium windows and their applications
Germanium Windows
Germanium is popular for its high index of refraction (around 4.0 from 2-14µm
Germanium Windows for Thermography
The transmission of BBAR-coated germanium window.
Transmission spectrum of a Ge window
Thermal Runaway in Germanium Laser Windows
Lenses made out of germanium focus infrared light
Thermal imaging cover window, germanium cover windows, DLC coated ...
Our Thermal imaging Germanium cover windows are available with Anti reflection coatings on both sides, or with Hard Carbon Diamond coatings. ...
www.galvoptics.fsnet.co.uk/thermal_ge_windows.htm - 37k - Cached - Similar pages
Germanium lenses Infrared filters and window optics
Infrared Filters & Metalized Windows. Windows. Germanium Sapphire Zinc Sulfide Silicon Zinc Selenide. Filters.
Germanium Stock Windows
Germanium windows are available ex-stock
Germanium Window (Ge Window) widely used in IR sensors, thermal image, medical and other applications.
Germanium Window
Germanium optics for pyrometry and thermography
BBAR coated Germanium windows for pyrometry and thermography.
Germanium FLIR optics ...
carbon hardened germanium window
germanium window, lenses
Germanium(Ge) Windows/Lenses Germanium is a commonly used infrared window material. It's popular for its high index of refraction and good IR transmission.
Battlefield-Ready Infrared Windows for Night Vision/Heat Detection ...
DLC multilayer coating
thermal infrared imaging flir camera
Diamond coated hardened carbon Germanium window.
A window fabricated from germanium is both electrically and thermally conductive.