Infrared (IR) sensors have been aiding wildland firefighters for nearly 40 years. Originally only used for initial detection, IR sensors are now used to detect, monitor, and direct fire suppression and mop-up operations. Recent technological developments have resulted in proliferation of IR scanners at fire camps across North America. They range from small handheld units to airborne units that can cover millions of acres per hour with real-time output. Classifying IR scanners into type categories will enable incident commanders and situation unit leaders to select the proper equipment for each situation, thus avoiding waste of time and money on imagery that will not be useful. Modeled on the typing scheme used to classify helicopters, this typing scheme is easy to use and simple to understand for firefighting leaders.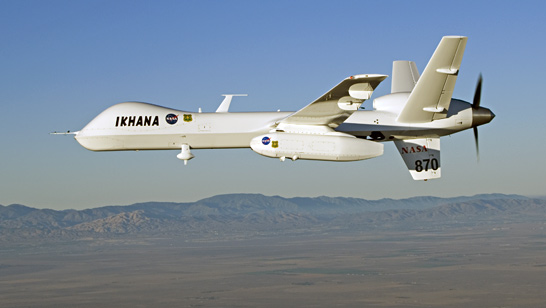 Image above: With its sensor pod under its left wing, NASA's remotely piloted Ikhana unmanned aircraft cruises over California during the Western States Fire Mission.
NASA photo by Jim Ross
Infrared Field Users Guide and Vendor Listings
Del Mar Photonics manufacture variety of standard and custom infrared optical components and systems.
Request a quote for Infrared Optics
Case studies:
Customer wrote:
We need a circular window for infrared fire imaging. This window will be used for a sensor that can be used from about 8 to 12.5 microns depending on the filter we use. It's going to be installed in a pressurized aircraft in a plate that we will have fabricated to replace the existing large (about 23: dia) glass window. It will need to be coated.

The sensor is used to image the earth from nominally 16,000 to 24,000 ft altitude and we want an image with little distortion. We've been doing this for some time but in an un-pressurized aircraft.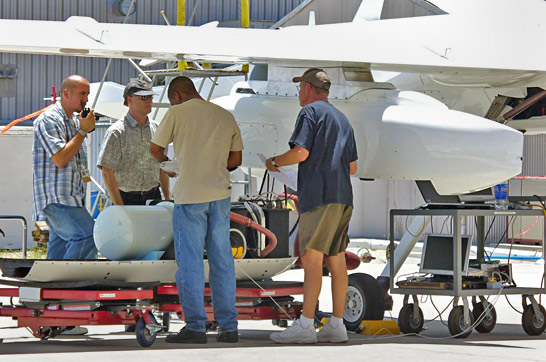 Loading the thermal-infrared sensors into the underwing pod on NASA Dryden's Ikhana unmanned aircraft for a wildfire imaging flight.
NASA photo
========================
Example of IR optical components for thermal, infrared and hyperspectral imaging
| | | | |
| --- | --- | --- | --- |
| Model | Product Name+ | Price | Buy Now |
| PH-ZnSe-25.4-12.7 | ZnSe hemicylindrical prism, 25.4 mm | $1,350.00 | |
| R-ZnSe-25.4-25.4 | ZnSe rhomb, 25.4x25.4 mm | $1,900.00 | |
| RAP-ZnSe-12.7-25.4 | ZnSe right angle prism, 12.7 x 25.4 mm | $500.00 | |
| S-ZnSe-10-10-0.5 | ZnSe slide, 10x10x0.5 mm | $90.00 | |
| WS-ZnSe-100-100-10 | ZnSe square window, 100x100x10, coated | $3,500.00 | |
| VP-ZnSe-45-3-2 3/4 | ZnSe viewport, 2-3/4 | $2,500.00 | |
| VP-ZnSe-73-4-4 1/2 | ZnSe viewport, 4 1/2 | $3,500.00 | |
| W-ZnSe-1.5"-2.5"-1/4 | ZnSe window, 38.1x63x6.35 mm, coated | $1,450.00 | |
| W-ZnSe-105-6-AR | ZnSe window, ø 105 mm, thickness 6 mm, coated | $3,325.00 | |
| W-ZnSe-12.7-1 | ZnSe window, ø 12.7 mm, thickness 1 mm | $90.00 | |
| W-ZnSe-20-3 | ZnSe window, ø 20, thickness 3 mm | $150.00 | |
| W-ZnSe-25-2-AR | ZnSe window, ø 25, thickness 2 mm, coated | $365.00 | |
| W-ZnSe-25.4-2-AR-3-1 | ZnSe window, ø 25.4 mm, thickness 2 mm, AR coated 3-12 Ám | $365.00 | |
| W-ZnSe-25.4-3 | ZnSe window, ø 25.4 mm, thickness 3 mm | $190.00 | |
| W-ZnSe-60-3-K | ZnSe window, ø 60 mm, thickness 3 mm, coated | $620.00 | |
| W-ZnSe-76.2-3-K | ZnSe window, ø 76.2 mm, thickness 3 mm, coated | $700.00 | |
| | | | |
| --- | --- | --- | --- |
| Model | Product Name+ | Price | Buy Now |
| CPPE-Ge-38.1-4 | Germanium circular plane parallel etalon, ø 38.1 mm x 4 mm | $750.00 | |
| E-Ge-12.7-25.4 | Germanium etalon, ø 12.7 mm x 25.4 mm (ø 0.5" x 1") | $790.00 | |
| RAP-Ge-1 | Germanium right angle prism, 25.4x25.4x25.4 mm | $700.00 | |
| W-Ge-114.3-5-AR | Germanium window, ø 114.3 mm x 5.0 mm, AR coated 8-12 micron | $2,450.00 | |
| W-Ge-125-6 | Germanium window, ø 125 mm x 6 mm | $1,400.00 | |
| W-Ge-25.4-3 | Germanium window, ø 25.4 mm x 3 mm | $110.00 | |
| W-Ge-38.1-4 | Germanium window, ø 38.1 mm x 4 mm | $250.00 | |
| W-Ge-38.1-4 | Germanium window, ø 38.1 mm x 4 mm, coated | $350.00 | |
| W-Ge-50.8-3 | Germanium window, ø 50.8 mm x 3 mm | $340.00 | |
| W-Ge-50.8-3 | Germanium window, ø 50.8 mm x 3 mm | $500.00 | |
| W-Ge-50.8-5 | Germanium window, ø 50.8 mm x 5 mm | $500.00 | |
| W-Ge-60-3-CTS | Germanium window, ø 60 mm x 3 mm | $470.00 | |
Displaying 1 to 12 (of 12 products)

Del Mar Photonics, Inc.
4119 Twilight Ridge
San Diego, CA 92130
tel: (858) 876-3133
fax: (858) 630-2376
Skype: delmarphotonics
sales@dmphotonics.com