Micro-Optics

Del Mar Photonics now offers the micro-optics for the endoscopic, LD to fiber coupling applications. Our micro-optics are competitive in the market, and we have established the cooperation with many medical and industrial instrument maker all over the world.

We provide the customized optics according to your requirements. Please send us your drawing, and specifications for a custom quote. Request a quote
Here is our ability:
Diameter: minimum 0.66mm;
Curved Radius: 0.6mm;
Optics Types: plano-plano windows, plano-convex lenses; plano-convex lenses; double-convex lenses; double-concave lenses; meniscus lenses, rod lenses; ball lenses; semi-ball lenses; cylindrical lenses; cylindrical rod; prisms.
Materials: BK7 glass; fused silica; sapphire; other customized optical glass also available;
Coating: multi-layer BBAR coating, single-layer AR coating, reflection coating is available.

<![if !vml]> <![endif]>

Double Concave Lenses (0.66mm minimum)

Request a quote

<![if !vml]> <![endif]>

Semi-ball lenses

<![if !vml]> <![endif]>

Ball lenses (0.66mm minimum)

<![if !vml]> <![endif]>

Windows (0.66mm minimum)



Micro-Prisms

Right Angle Prism - request a quote

Capability:
Material: BK7 grade A optical glass, Fused Silica
Typical Dimension: 1×1×1mm; 3×3×3mm; 5×5×5mm
Clear Aperture: >85%
Angle Tolerance: 45°±1 arc minute or better; 90°±30 arc second or better;
Flatness: lambda/4@632.8 nm
Surface Quality: better than 20-10 scratch and dig
AR Coating: R<0.2%@1310nm+/-40nm;1560nm+/-40nm or other wavelength
Note: Other size, material and coating are also available upon requirement.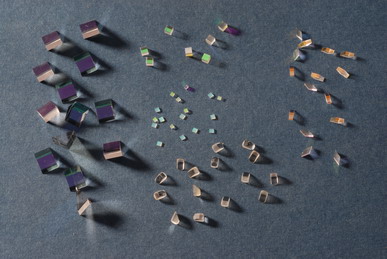 Micro Wedge - request a quote

Capability:
Material: BK7 grade A optical glass
Typical Dimension: 1×1×1mm; 3.5mm×4.5mm×1.0mm
Angle Tolerance: +/-3 arc minute or better;
Flatness: lambda/8@632.8 nm
Surface Quality: better than 20-10 scratch and dig
AR Coating: R<0.2%@1310nm+/-40nm;1550nm+/-40nm or other wavelength
Note: Other size,material and coating are also available upon requirement.


Roof Prisms - request a quote

Capability:
Material: BK7 grade A optical glass
Typical Dimension: 1×1×1mm; 3mm×3mm×3mm
Pyramid: <1 arc minute
Angle Tolerance: +/-3 arc minute or better;
Flatness: lambda/8@632.8 nm
Surface Quality: better than 20-10 scratch and dig
AR Coating: R<0.2%@1310nm+/-40nm;1550nm+/-40nm or other wavelength
Note: Other size,material and coating are also available upon requirement.



Rhomboid Prisms - request a quote

Capability:
Material: BK7;SF11 grade A optical glass
Typical Dimension: 1×1×1mm; 3mm×3mm×3mm
Parallelism: <10 arc second
Angle Tolerance: <1 arc minute
Flatness: lambda/8@632.8 nm
Surface Quality: better than 20-10 scratch and dig
AR Coating: R<0.2%@1310nm+/-40nm;1550nm+/-40nm or other wavelength
Note: Other size,material and coating are also available upon requirement.

Optical components and crystals store:
http://www.greyhawkoptics.com/

Del Mar Photonics, Inc.
4119 Twilight Ridge
San Diego, CA 92130
tel: (858) 876-3133
fax: (858) 630-2376
Skype: delmarphotonics
sales@dmphotonics.com