Del Mar Photonics - PCA brochure - buy online - PCA Q&A


thank you for your enquiry. Please find attached the quotation for

We are preparing

iPCAp-21-05-1000-800-h Interdigital photoconductive terahertz antenna with the following parameters:
- Excitation laser wavelength: 800 nm
- Excitation laser pulsewidth: 100 fs typ (femtosecond Ti:Sapphire laser Trestles Finesse)
- Max. mean optical power: 3 W
- Optical reflectance at 800 nm: less than 10%
- Antenna resonance frequency: 2 THz
- Emitted THz spectrum: 0.1 … 3.0 THz
- Emitter conversion efficiency: 10-4 or better at 0.5 W optical power
- Max. voltage required: 20 V for a safe long time use
- gap distance 5 μm
- active area 1mm x 1mm - mounted on a 25.4 mm diameter aluminum heat sink, with adjusted optical microlens-array on the front side and hyperhemispherical silicon lens on the back side and coaxial cable with BNC connector

Interdigital photoconductive antennas with an active area of 1mm x 1mm, which can be used with mean optical laser power up to 3W, if the mount has a good thermal connection to a larger heat sink to remove the 3W thermal power from the antenna.

New antenna with an larger active area of 3mm x 3mm for mean optical power up to about 10 W with a water cooled mounting will be available November 2008!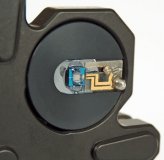 iPCA - interdigital Photoconductive Antenna for terahertz waves

Large area broadband antenna with lens array and high emitter conversion efficiency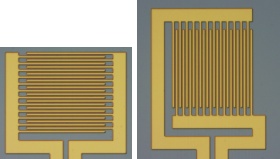 iPCAp iPCAs


iPCA with LT-GaAs absorber, microlens array for laser excitation wavelengths l £ 850 nm, adjusted hyperhemispherical silicon lens with a high power conversion efficiency of 0.2 mW THz power / W optical power. The iPCA can be used also as large area THz detector. The two types iPCAp and iPCAs have the same active interdigital antenna area but different contact pad directions with respect to the electrical THz field.
Part No.
Delivery time
l
(mm)
g
(mm)
w
(mm)
Description
Price ($)
iPCAp-21-05-300-800-h
1 week
21
05
300
interdigital photoconductive terahertz antenna, resonance frequency 2 THz, gap distance 5 mm, active area 300 mm x 300 mm, optical excitation wavelength l = 800 nm, with adjusted hyperhemispherical silicon lens, BNC connector
2720
iPCAs-21-05-300-800-h
1 week
21
05
300
interdigital photoconductive terahertz antenna, resonance frequency 2 THz, gap distance 5 mm, active area 300 mm x 300 mm, optical excitation wavelength l = 800 nm, with adjusted hyperhemispherical silicon lens, BNC connector
2720
iPCAp-21-05-1000-800-h
1 week
21
05
1000
interdigital photoconductive terahertz antenna, resonance frequency 2 THz, gap distance 5 mm, active area 1 mm x 1 mm, optical excitation wavelength l = 800 nm, with adjusted hyperhemispherical silicon lens, BNC connector
2880
iPCAs-21-05-1000-800-h
1 week
21
05
1000
interdigital photoconductive terahertz antenna, resonance frequency 2 THz, gap distance 5 mm, active area 1 mm x 1 mm, optical excitation wavelength l = 800 nm, with adjusted hyperhemispherical silicon lens, BNC connector
2880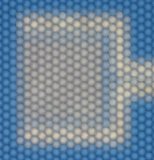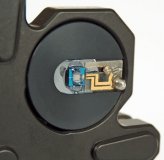 PCA
Photoconductive Antenna for terahertz waves
800 nm
PCA with LT-GaAs absorber for laser excitation wavelengths λ ≤ 850 nm; optical absorption > 70%
| | | | |
| --- | --- | --- | --- |
| Model | Product Name+ | Price | Buy Now |
| PCA-44-16-16-800-u | PCA: resonance frequency 1 THz, λ = 800 nm, gap distance 16 µm | $825.00 | |
| PCA-44-16-16-800-h | PCA: resonance frequency 1 THz, λ = 800 nm, gap distance 16 µm | $1,950.00 | |
| PCA-44-34-100-800-u | PCA: resonance frequency 1 THz, λ = 800 nm, gap distance 34 µm | $825.00 | |
| PCA-44-34-100-800-h | PCA: resonance frequency 1 THz, λ = 800 nm, gap distance 34 µm | $1,950.00 | |
| PCA-44-06-10-800-u | PCA: resonance frequency 1 THz, λ = 800 nm, gap distance 6 µm | $825.00 | |
| PCA-44-06-10-800-h | PCA: resonance frequency 1 THz, λ = 800 nm, gap distance 6 µm | $1,950.00 | |
| PCA-30-10-10-800-u | PCA: resonance frequency 1.5 THz, λ = 800 nm, gap distance 10 µm | $825.00 | |
| PCA-30-10-10-800-h | PCA: resonance frequency 1.5 THz, λ = 800 nm, gap distance 10 µm | $1,950.00 | |
| PCA-30-14-14-800-u | PCA: resonance frequency 1.5 THz, λ = 800 nm, gap distance 14 µm | $825.00 | |
| PCA-30-14-14-800-h | PCA: resonance frequency 1.5 THz, λ = 800 nm, gap distance 14 µm | $1,950.00 | |
Displaying 1 to 10 (of 10 products)
990-1060 nm
PCA with LT-GaAs absorber for laser excitation wavelengths λ = 990 .. 1060 nm; optical absorption ~ 50%
| | | | |
| --- | --- | --- | --- |
| Model | Product Name+ | Price | Buy Now |
| PCA-44-16-16-1030-h | PCA: resonance frequency 1 THz, λ = 990 .. 1060 nm, gap distance 16 µm | $1,950.00 | |
| PCA-44-16-16-1030-u | PCA: resonance frequency 1 THz, λ = 990 .. 1060 nm, gap distance 16 µm | $825.00 | |
| PCA-44-34-100-1030-u | PCA: resonance frequency 1 THz, λ = 990 .. 1060 nm, gap distance 34 µm | $825.00 | |
| PCA-44-34-100-1030-h | PCA: resonance frequency 1 THz, λ = 990 .. 1060 nm, gap distance 34 µm | $1,950.00 | |
| PCA-44-06-10-1030-u | PCA: resonance frequency 1 THz, λ = 990 .. 1060 nm, gap distance 6 µm | $825.00 | |
| PCA-44-06-10-1030-h | PCA: resonance frequency 1 THz, λ = 990 .. 1060 nm, gap distance 6 µm | $1,950.00 | |
| PCA-30-10-10-1030-h | PCA: resonance frequency 1.5 THz, λ = 990 .. 1060 nm, gap distance 10 µm | $1,950.00 | |
| PCA-30-10-10-1030-u | PCA: resonance frequency 1.5 THz, λ = 990 .. 1060 nm, gap distance 10 µm | $825.00 | |
| PCA-30-14-14-1030-u | PCA: resonance frequency 1.5 THz, λ = 990 .. 1060 nm, gap distance 14 µm | $825.00 | |
| PCA-30-14-14-1030-h | PCA: resonance frequency 1.5 THz, λ = 990 .. 1060 nm, gap distance 14 µm | $1,950.00 | |
Displaying 1 to 10 (of 10 products)
1040 nm
PCA with LT-GaAs absorber for laser excitation wavelengths λ ~ 1040 nm; optical resonant design 97% absorption @ 1040 nm
| | | | |
| --- | --- | --- | --- |
| Model | Product Name+ | Price | Buy Now |
| PCA-44-16-16-1040-h | PCA: resonance frequency 1 THz, λ ~ 1040 nm, gap distance 16 µm | $1,950.00 | |
| PCA-44-16-16-1040-u | PCA: resonance frequency 1 THz, λ ~ 1040 nm, gap distance 16 µm | $825.00 | |
| PCA-44-34-100-1040-h | PCA: resonance frequency 1 THz, λ ~ 1040 nm, gap distance 34 µm | $1,950.00 | |
| PCA-44-34-100-1040-u | PCA: resonance frequency 1 THz, λ ~ 1040 nm, gap distance 34 µm | $825.00 | |
| PCA-44-06-10-1040-h | PCA: resonance frequency 1 THz, λ ~ 1040 nm, gap distance 6 µm | $1,950.00 | |
| PCA-44-06-10-1040-u | PCA: resonance frequency 1 THz, λ ~ 1040 nm, gap distance 6 µm | $825.00 | |
| PCA-30-10-10-1040-u | PCA: resonance frequency 1.5 THz, λ ~ 1040 nm, gap distance 10 µm | $825.00 | |
| PCA-30-10-10-1040-h | PCA: resonance frequency 1.5 THz, λ ~ 1040 nm, gap distance 10 µm | $1,950.00 | |
| PCA-30-14-14-1040-h | PCA: resonance frequency 1.5 THz, λ ~ 1040 nm, gap distance 14 µm | $1,950.00 | |
| PCA-30-14-14-1040-u | PCA: resonance frequency 1.5 THz, λ ~ 1040 nm, gap distance 14 µm | $825.00 | |
| | |
| --- | --- |
| Displaying 1 to 10 (of 10 products) | |
iPCA
interdigital Photoconductive Antenna for terahertz waves
| | | | |
| --- | --- | --- | --- |
| Model | Product Name+ | Price | Buy Now |
| iPCAp-21-05-1000-800 | iPCAp, 800 nm, 21x5x1000 microns | $2,880.00 | |
| iPCAp-21-05-300-800- | iPCAp, 800 nm, 21x5x300 microns | $2,720.00 | |
| iPCAs-21-05-1000-800 | iPCAs, 800 nm, 21x5x1000 microns | $2,880.00 | |
| iPCAs-21-05-300-800- | iPCAs, 800 nm, 21x5x300 microns | $2,720.00 | |
Displaying 1 to 4 (of 4 products)