Customer inquiry:
my company is looking for equipment that can accurately identify any types of plastics, preferably handheld but doesn't have to be, accuracy is what we're looking for. By the way is it possible to send you some samples to test it out? Hope to hear from you soon.

Del Mar Photonics reply:
Yes, we offer AOTF IR spectrometer RAVEN for plastic identification and we'll be happy to test your samples in our lab!
RAVEN – Portable Plastic Identifier - request a quote

The AOTF IR spectrometer RAVEN is a plastic identifier and spectrometer intended mainly for plastics recycling, QC, production, laboratory or engineering use. It uses a notebook computer to view and analyze the spectrum of the sample. Spectral scan software and the plastic ID software are both included. Wavelength scan range is from 1200 to 2600 nm, with a spectral resolution of under 10 nm. The scan speed is up to 2400 wavelength points per second. The plastic ID software will display the sample identification in less then one second, along with a near-infrared spectrum of the sample.

Description of Operation

The small optics module of the RAVEN is connected to a notebook computer a USB cable. After the instrument is turned on and allowed to warm up, it is ready to identify plastics. By choosing the "identify" function, the instrument will identify plastic samples. Place the sample in front of the window, and push the button. The sample ID along with the infrared spectrum is displayed on the monitor in less then one second.
To use the instrument as a spectrometer, number of data points, number of scans to average together. The spectrum can then be saved and transferred to GRAMSTM or SpectraCalcTM for analysis. By using a mirror or ceramic disk in front of the window, it is possible to obtain the spectrum of clear solids and liquids.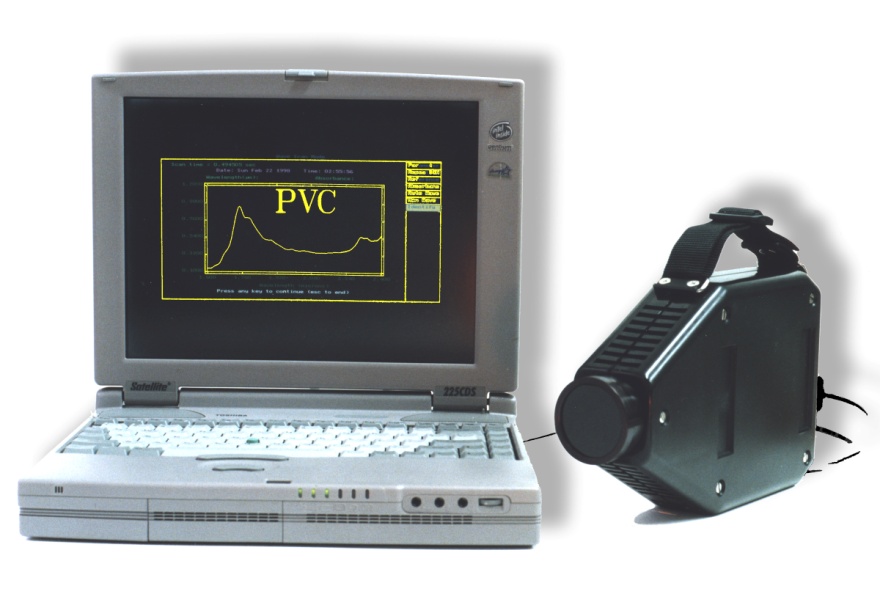 Based on AOTF technology (acousto-optic tunable filter)
Dimension: 9"x6"x2";
Weight: 2.1 lb
Light source: tungsten halogen lamp, 5W
Wavelength scan range: 1200 – 2600 points/sec
Software for plastic-ID and spectral scan included (requires Pentium computer)
Standard Plastic Types: (more can be added)

ABS Acrylonitrile-Butadiene-Styrene
AS Acrylonitrile-Styrene
PA Polyamide
PBT Polybutylene Terephthalate
PC Polycarbonate
PC/ABS Polycarbonate / Acrylonitrile-Butadiene-Styrene
PE Polyethylene
PET Polyethylene Terephthalate
PMMA Polymethyl Methacrylate (Acrylic Resin)
POM Polyxymethylene (Acetal)
PP Polypropylene
PS Polystyrene
PVC Polyvinyl Chloride
PVDC Polyvinylidene Chloride
PUR Polyurethane

Standard Carpet Types

Nylon 6 & 66
Wool, polyester (PET), PP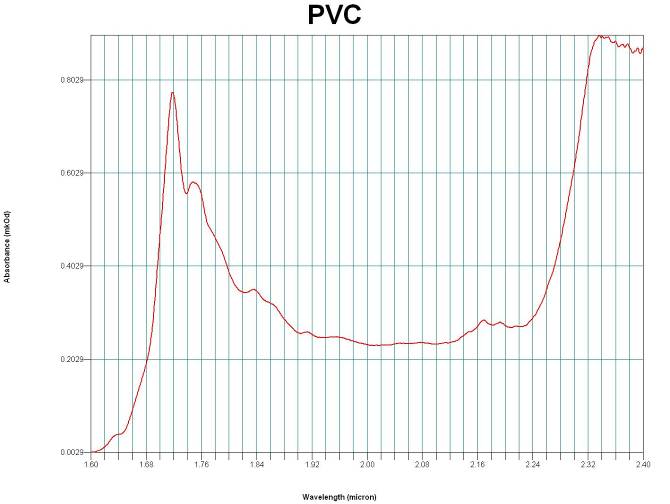 AOTF Technology

At the heart of the RAVEN is a miniature infrared spectrometer which uses a crystal of tellurium dioxide to scan the wavelength. This device is known as an acousto-optic tunable filter, or AOTF. Light from a small halogen lamp enters the crystal, and is diffracted into specific wavelengths. These wavelengths are determined by the frequency of the electrical input to the crystal. Since there are no moving parts, the wavelength scanning can be extremely fast. In addition, specific wavelengths can be chosen by software according to the plastic identification algorithm, and therefore can be modified without changing the hardware. After the infrared radiation reflects off of the sample, it is converted into an electrical signal by the detector and analyzed by the computer.
We have chosen the AOTF technology for the RAVEN because it allows us to offer a very versatile and sophisticated instrument in a small and relatively inexpensive package. Unlike fixed-wavelength simpler instruments, the RAVEN is a true spectrometer comparable to much larger laboratory instruments. Some of the many applications are shown in the graphs on the accompanying page.

AOTF Infrared Spectrometer

Del Mar Photonics, Inc.
4119 Twilight Ridge
San Diego, CA 92130
tel: (858) 876-3133
fax: (858) 630-2376
Skype: delmarphotonics
sales@dmphotonics.com
www.twitter.com/TiSapphire