Del Mar Photonics - Solar Power International 2008
Lasers in the solar cell production industry

The photovoltaic industry has once again shown how an industry which regularly exceeds its own growth predictions can spur many other industries. Both the laser industry and flat glass manufacturers are doing very well from the current boom. But the potential is by no means exhausted. For example, not all production lines work with laser tools to insulate edges in crystalline solar cells. Besides, there are many further potential areas of application for lasers in the solar cell production industry. A lot of work is still being carried out in the R&D departments and we can expect to see the results of this flow into the factories in the not too distant future.

New laser applications in solar cell production that will be presented at LASER World of PHOTONICS 2009. "Lasers used in the production of photovoltaic cells" is one of the main topics of the event.
Development of next generation photovoltaic technology
Femtosecond Laser application in manufacturing efficient Photovoltaic Cells based on nano-structured materials, such as quantum dots and plasmonic enhanced thin films.
Micro and nano-structuration of silicon by femtosecond laser: Application to silicon photovoltaic cells fabrication. more
Example of Next Generation Photovoltaic Technology under development: Plasmonic Enhanced Thin Film Silica Photovoltaic Cell. more
Del Mar Photonics development team building solar cell car and plan to participate in Solar Car Challenge more
Optical Components for Solar Industry Applications
Del Mar Photonics offers variety of custom optical components including molded glass optics. To request additional information or to get a quote for an OEM optical components for Solar Industry applications please contact us at the address below.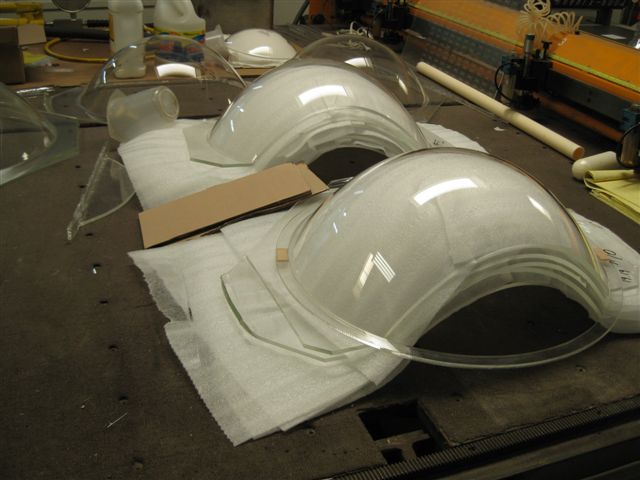 Solar Family Day in San Diego at Spanish Landing
Solar Power International 2008 Conference - website


SPEAKERS EVENT DETAILS
Ahearn, Michael CEO Panel #1: Market Development
Aiken, Daniel State-of-the-Art CPV
Anderson, John Financing Utility-Scale Solar Projects
Andreen, Rick Closing Plenary
Arfin, David Financing Residential Solar
Aringoff, Rainer Vertical vs Virtual Integration Debate
Aston, Adam CEO Panel #2: Driving Down Costs
Augustine, Debbie Solar for Production Home Builders: The Differentiation Factor
Ball, Greg Right-Sizing the Inverter to the Application
Bardacke, Ted California Solar Electric and Solar Hot Water Initiatives: Review, Update and Forecast
Barsley, Gary Integrating Solar and Energy Efficiency
Bartholomy, Obadiah Impacts of High Solar Penetration
Basso, Thomas S. Impacts of High Solar Penetration
Behnke, Mike Right-Sizing the Inverter to the Application
Belur, Raghu Right-Sizing the Inverter to the Application
Berdner, John Optimizing PV System Performance
Bertolino, Jon State-of-the-Art CSP
Black, Andy Find Your Solar Dream Job
PV 202: Economics of Solar: Making The Financial Case for Residential Solar
PV 210: Commercial Solar Economics & Financing with PPAs and Leases
Bloom, Jerry REC Markets: The Good, the Bad and the Ugly
Booth, Tobin Long-Term Industry Technology Issues
Bradford, Travis PV 201: Photovoltaic Markets, Technology, Performance, and Cost to 2015
Britt, Jeffrey The Great Thin Film Debate: Winning the Hearts and Minds of System Installers and Investors
Brooks, Bill Optimizing PV System Performance
PV 105: Solar Codes and Standards for Building Inspectors
Brooks, Cameron How to Monetize Solar Revenue Streams
Browning, Adam Great Incentive Debate: Feed-in Tariffs, Solar RECs / RPS Carve outs, REBs, Tax Credits, Rebates, and the Kitchen Sink
Butler, Evelyn Operations Best Practices and Process Improvements for Residential Solar Installers
Byrnes , Andrew How to Monetize Solar Revenue Streams
Cameron, Murray Great Incentive Debate: Feed-in Tariffs, Solar RECs / RPS Carve outs, REBs, Tax Credits, Rebates, and the Kitchen Sink
Cantwell, Maria Closing Plenary
Carrese, John Workforce Development: What is Needed and Who is Providing It
Cart, Bob Utility-Scale Market Expansion: Paving the Road to Success
Casey, Leo Right-Sizing the Inverter to the Application
Chadima, Steve Great Incentive Debate: Feed-in Tariffs, Solar RECs / RPS Carve outs, REBs, Tax Credits, Rebates, and the Kitchen Sink
Cheney, Matt CEO Panel #2: Driving Down Costs
Financing Commercial-Scale Solar: Realities, Responsibilities, and Returns
Christensen, Isabelle Educating Customers
Cinnamon, Barry Finding Talent and Managing Growth in an Exploding Green Collar Economy
Clark, Wesley Opening Plenary
Collins, Brad Finding Talent and Managing Growth in an Exploding Green Collar Economy
Collinwood, Benjamin Ratings vs Performance
Conley, Gary State-of-the-Art CPV
Cook, Chris How to Mitigate the Risk of Policy Uncertainty
Cooney, Kevin Great Incentive Debate: Feed-in Tariffs, Solar RECs / RPS Carve outs, REBs, Tax Credits, Rebates, and the Kitchen Sink
Cornelius, Craig How to Mitigate the Risk of Policy Uncertainty
The Future of the Solar Industry: A Look Into Analysts' Crystal Ball
Cotter, Noel PV 203: Solar Installation Best Practices Bootcamp
Cowell, Stephen How to Monetize Solar Revenue Streams
Culpepper, Mark Optimizing PV System Performance
Cunningham, Daniel Long-Term Industry Technology Issues
Curry, Jeff Innovative Utility Programs
DeMure, Jeffrey Solar for Production Home Builders: The Differentiation Factor
Detering, Paul How to Monetize Solar Revenue Streams
Dolan, Kerry CEO Panel #1: Market Development
Dovale , Rafael The International Language: Money
Dube, Evan State Policy
Dyer, Adrian PV 103: Intro to Solar Installation
Dyer, Tom Ratings vs Performance
Eaton, Rebecca Workforce Development: What is Needed and Who is Providing It
Eber, John Financing Utility-Scale Solar Projects
Feo, Ed PV 204: Commercial Finance: The Dark Arts of Leverage, Tax Equity, Leases and More
Fodstad, Asmund Educating Customers
Ford, Robert The Great Crystalline Silicon Debate
Frantzis, Lisa The Great Crystalline Silicon Debate
Garabandic , Djordje Long-Term Industry Technology Issues
Gaultier, William Educating Customers
Gee, Randy State-of-the-Art CSP
Geesman, John Utility-Scale Market Expansion: Paving the Road to Success
Geiger , Steven The International Language: Money
Goers, August PV 203: Solar Installation Best Practices Bootcamp
Gomm, Lloyd Long-Term Industry Technology Issues
Right-Sizing the Inverter to the Application
Gorman, Steven Solar Thermal Management – Not Just for Heating Water
Grainey, Michael State Policy
Greifeld, Robert Opening Plenary
Grimbert, Tristan The International Language: Money
Hall, Aaron Long-Term Industry Technology Issues
Hamm, Julia An Approaching Paradigm Shift: Utility Engagement in the Solar Value Chain
Opening Plenary
Hammon, Rob Innovative Whole Building Design
Hammon, Robert Solar and Real Estate Values
Harris, Kimberly An Approaching Paradigm Shift: Utility Engagement in the Solar Value Chain
Harrison, John Solar Thermal Systems 101: Intro to Technology, Policy & Markets
Haynes, Rusty State Policy
Heming, Martin CEO Panel #2: Driving Down Costs
Henri, Joe A Friction Free Solar Market: How to Get There and What it Offers
Hill, David Technology & Regulation: How to do it Right
Hindrichs, Dirk U. The Great Crystalline Silicon Debate
Hochschild , David Accelerating Solar on a Local Level
Hoen, Ben Solar and Real Estate Values
Hoffmann, Winfried Policy Stories from Abroad
The Great Thin Film Debate: Winning the Hearts and Minds of System Installers and Investors
Holland, Art How Broader Financial & Commodity Markets Affect the Solar Market
Hornbrook, Chuck A Friction Free Solar Market: How to Get There and What it Offers
California Solar Electric and Solar Hot Water Initiatives: Review, Update and Forecast
Howard, Bion D Innovative Whole Building Design
Howell, Timothy Financing Utility-Scale Solar Projects
Hsiao, Peter REC Markets: The Good, the Bad and the Ugly
Huacuz , Jorge Policy Stories from Abroad
Huang, Rachel Innovative Utility Programs
Huggins, Jim Solar Thermal Systems 101: Intro to Technology, Policy & Markets
Hughes, Kevin State Policy
Jagodzinski, Mary Jane Affordable Housing
Johnson, Devan PV 207: Integrating Solar and Energy Efficiency (same as Solar Hot Water 201)
Solar Hot Water 201: Integrating Solar and Energy Efficiency (same as PV 207)
Kaiserman, David Integrating Solar and Energy Efficiency
KAIZUKA, Izumi Policy Stories from Abroad
Kalafatas, Daniel REC Markets: The Good, the Bad and the Ugly
Kateley, Sue California Solar Electric and Solar Hot Water Initiatives: Review, Update and Forecast
Kelly, Bill Solar and Real Estate Values
KIMBIS, THOMAS Accelerating Solar on a Local Level
Kimbis, Tom Solar America Initiative - Entering a New Phase
King, David L. Optimizing PV System Performance
King, Mike How Broader Financial & Commodity Markets Affect the Solar Market
Kirkpatrick, David 2008 and Beyond, the Next Phase in Solar Investing
Klebensberger, Boris The Great Crystalline Silicon Debate
Kopans, David How to Monetize Solar Revenue Streams
Kravetz, Alexandra Policy Stories from Abroad
Kreamer, Nat Financing Residential Solar
Kuhn, Michael Accelerating Solar on a Local Level
Kuhn, Rick Operations Best Practices and Process Improvements for Residential Solar Installers
Kupiecki, Kimberly PV 104: Solar Sales & Marketing Bootcamp: How to get the most mindshare with your message
Kurtz, Sarah State-of-the-Art CPV
Leigh, Tim Innovative Whole Building Design
Levin, Edward Financing Commercial-Scale Solar: Realities, Responsibilities, and Returns
Liu, Peter Financing Residential Solar
Lowenstein, Andrew Solar Thermal Management – Not Just for Heating Water
Lushetsky, John Solar America Initiative - Entering a New Phase
Lynk, Frederick Innovative Utility Programs
MacDonald, Robert Operations Best Practices and Process Improvements for Residential Solar Installers
Mancini, Thomas CSP 101: Intro to Technology, Policy & Markets
Margolis, Robert How Broader Financial & Commodity Markets Affect the Solar Market
Martin, Jose C State-of-the-Art CSP
Martin, Keith Financing Utility-Scale Solar Projects
How Broader Financial & Commodity Markets Affect the Solar Market
Maycock, Paul PV 201: Photovoltaic Markets, Technology, Performance, and Cost to 2015
Maynes, Adrian 2008 and Beyond, the Next Phase in Solar Investing
McAllister, Andrew A Growing Worldwide Market: Solar Thermal Heating and Cooling
California Solar Electric and Solar Hot Water Initiatives: Review, Update and Forecast
McCalmont, Tom Operations Best Practices and Process Improvements for Residential Solar Installers
McFarland, Jan How to Monetize Solar Revenue Streams
Meares, Matthew Financing Commercial-Scale Solar: Realities, Responsibilities, and Returns
Melby , Jeff Finding Talent and Managing Growth in an Exploding Green Collar Economy
Merrigan, Tim Solar America Initiative - Entering a New Phase
Solar Thermal Management – Not Just for Heating Water
Merry, Liz PV 101: Grid-Tied Photovoltaic Industry Orientation
PV 102: Grassroots Organizing and Media Training
Mesquita, Lucio Solar Thermal Management – Not Just for Heating Water
Midden, Michael Financing Commercial-Scale Solar: Realities, Responsibilities, and Returns
Middleton, Dean The International Language: Money
Mills, David State-of-the-Art CSP
Milner, Anton CEO Panel #2: Driving Down Costs
Mints, Paula Ratings vs Performance
The Great Thin Film Debate: Winning the Hearts and Minds of System Installers and Investors
Moe, Nils Accelerating Solar on a Local Level
Morgan, Rob Utility-Scale Market Expansion: Paving the Road to Success
Mukani, Vinod The International Language: Money
Mullen , Beth Affordable Housing
Murray, Ed California Solar Electric and Solar Hot Water Initiatives: Review, Update and Forecast
Neagle, Brendan Affordable Housing
Educating Customers
Nelson, Les Solar Thermal Systems 101: Intro to Technology, Policy & Markets
Newell, Pam A Friction Free Solar Market: How to Get There and What it Offers
Nitzkin, Aaron Solar for Production Home Builders: The Differentiation Factor
NOWAK, Stefan Policy Stories from Abroad
Nutter, Samuel Affordable Housing
OBrien, Christopher Utility-Scale Market Expansion: Paving the Road to Success
O'Connor, Craig The International Language: Money
O'Dell , Rebecca Public & Private Sector Commercial Projects: Defining Wants and Needs
O'Donnell, Arthur REC Markets: The Good, the Bad and the Ugly
O'Rourke, Stephen The Future of the Solar Industry: A Look Into Analysts' Crystal Ball
Paidipati, Jay Finding Talent and Managing Growth in an Exploding Green Collar Economy
Perez, Richard Impacts of High Solar Penetration
Perez, Rudy Innovative Utility Programs
Petersen , Matt Policy Stories from Abroad
Petrina, Robert How to Mitigate the Risk of Policy Uncertainty
Pfund , Nancy How to Mitigate the Risk of Policy Uncertainty
Pichel , Jesse The Future of the Solar Industry: A Look Into Analysts' Crystal Ball
Plaisted, Josh Solar Thermal Management – Not Just for Heating Water
Podlowski, Lars Optimizing PV System Performance
Poffinbarger, Douglas Public & Private Sector Commercial Projects: Defining Wants and Needs
Poulin, William Long-Term Industry Technology Issues
Pratsch, Lew Innovative Whole Building Design
Presswood, Jim Integrating Solar and Energy Efficiency
Reed, Debra Opening Plenary
Reed, Richard A Growing Worldwide Market: Solar Thermal Heating and Cooling
Reedy, Robert Integrating Solar and Energy Efficiency
Regan, Ed An Approaching Paradigm Shift: Utility Engagement in the Solar Value Chain
Resch, Rhone Opening Plenary
Richter, Christoph State-of-the-Art CSP
Rickerson, Wilson A Growing Worldwide Market: Solar Thermal Heating and Cooling
Rive, Lyndon CEO Panel #1: Market Development
Robinson, Donald An Approaching Paradigm Shift: Utility Engagement in the Solar Value Chain
Rogers, James CEO Panel #1: Market Development
Roper, Marc Ratings vs Performance
Rose, Doug State-of-the-Art CPV
Rosen, Gregory Financing Residential Solar
Ross, JP Solar and Real Estate Values
Rottmayer, Steve PV 207: Integrating Solar and Energy Efficiency (same as Solar Hot Water 201)
Solar Hot Water 201: Integrating Solar and Energy Efficiency (same as PV 207)
Rubio, Francisca State-of-the-Art CPV
Russell, Eb Ratings vs Performance
Sachs, Chad Financing Utility-Scale Solar Projects
Sargent, Jeannine CEO Panel #2: Driving Down Costs
Sarubbi, Joseph Workforce Development: What is Needed and Who is Providing It
Schreiber , Daniela A Friction Free Solar Market: How to Get There and What it Offers
Schweitzer , Judi Solar for Production Home Builders: The Differentiation Factor
Scott, Bill Integrating Solar and Energy Efficiency
Seage, Santiago CEO Panel #1: Market Development
Sellers, Greg Operations Best Practices and Process Improvements for Residential Solar Installers
Seymour, Eric Right-Sizing the Inverter to the Application
Shah, Jigar Impacts of High Solar Penetration
Sharma, Suvi Vertical vs Virtual Integration Debate
Shaw, Polly Great Incentive Debate: Feed-in Tariffs, Solar RECs / RPS Carve outs, REBs, Tax Credits, Rebates, and the Kitchen Sink
Shrestha, Sanjay The Future of the Solar Industry: A Look Into Analysts' Crystal Ball
Shugar, Dan Finding Talent and Managing Growth in an Exploding Green Collar Economy
Vertical vs Virtual Integration Debate
Silagy, Eric An Approaching Paradigm Shift: Utility Engagement in the Solar Value Chain
Simon, Donald PV 208: Legal Contracting Bootcamp
Smith, Amy Corinne 2008 and Beyond, the Next Phase in Solar Investing
Stanton, John Up-date from Washington: The Federal Solar Policy Landscape
Starrs, Tom Vertical vs Virtual Integration Debate
Stephens, Scott Solar America Initiative - Entering a New Phase
Sterkel, Molly California Solar Electric and Solar Hot Water Initiatives: Review, Update and Forecast
Stone, Rob How Broader Financial & Commodity Markets Affect the Solar Market
The Future of the Solar Industry: A Look Into Analysts' Crystal Ball
Stough, John Utility-Scale Market Expansion: Paving the Road to Success
Straser, Erik 2008 and Beyond, the Next Phase in Solar Investing
Stryi-Hipp, Gerhard A Growing Worldwide Market: Solar Thermal Heating and Cooling
Technology & Regulation: How to do it Right
Supp, John Technology & Regulation: How to do it Right
Swanson, Dick The Great Crystalline Silicon Debate
Taylor, Chris How to Mitigate the Risk of Policy Uncertainty
Taylor, Mike Innovative Utility Programs
Thompson, Dan Ratings vs Performance
Ting, Phil Accelerating Solar on a Local Level
Ton, Dan Solar America Initiative - Entering a New Phase
Tutt, Tim Technology & Regulation: How to do it Right
Ullal , Harin The Great Thin Film Debate: Winning the Hearts and Minds of System Installers and Investors
Urban, Timothy Up-date from Washington: The Federal Solar Policy Landscape
Ventre, Jerry Workforce Development: What is Needed and Who is Providing It
Wadhwa, Inderpreet Policy Stories from Abroad
Waidelich , George Innovative Whole Building Design
Warrick, Brooke Solar for Production Home Builders: The Differentiation Factor
Wellinghoff, Jon Up-date from Washington: The Federal Solar Policy Landscape
Wells, Walker Affordable Housing
Wesoff, Eric 2008 and Beyond, the Next Phase in Solar Investing
West, Jack Optimizing PV System Performance
Whitaker, Chuck Optimizing PV System Performance
Wilkins, Frank Solar America Initiative - Entering a New Phase
Wilson, Bill Public & Private Sector Commercial Projects: Defining Wants and Needs
Winans , Jill How to Monetize Solar Revenue Streams
Winn, Bryon Solar Thermal Systems 101: Intro to Technology, Policy & Markets
Wiser, Ryan State Policy
Wolfe, Jeff Workforce Development: What is Needed and Who is Providing It
Wood, Hanson How to Monetize Solar Revenue Streams
Woods, Matthew Educating Customers
Woolard, John State-of-the-Art CSP
Wormser , Paul The Great Thin Film Debate: Winning the Hearts and Minds of System Installers and Investors
Yukawa , Isao (Ike) Closing Plenary
Monday
10/13/2008
8:00AM -12:00PM

CPV 101: Intro to Technology, Policy & Markets
10/13/2008
8:00AM -12:00PM

CSP 101: Intro to Technology, Policy & Markets
10/13/2008
9:00AM - 4:00PM

Commercial Solar Tour
10/13/2008
9:00AM - 4:00PM

PV 101: Grid-Tied Photovoltaic Industry Orientation
10/13/2008
9:00AM - 4:00PM

PV 103: Intro to Solar Installation
10/13/2008
9:00AM - 4:00PM

PV 104: Solar Sales & Marketing Bootcamp: How to get the most mindshare with your message
10/13/2008
9:00AM - 4:00PM

PV 105: Solar Codes and Standards for Building Inspectors
10/13/2008
9:00AM - 4:00PM

PV 201: Photovoltaic Markets, Technology, Performance, and Cost to 2015
10/13/2008
9:00AM - 4:00PM

PV 202: Economics of Solar: Making The Financial Case for Residential Solar
10/13/2008
9:00AM - 4:00PM

PV 203: Solar Installation Best Practices Bootcamp
10/13/2008
9:00AM - 5:00PM

PV 206: State & Local Renewable Energy Issues and Trends – IREC's 2008 Annual Meeting Workshop
10/13/2008
9:00AM - 4:00PM

PV 204: Commercial Finance: The Dark Arts of Leverage, Tax Equity, Leases and More
10/13/2008
1:00PM - 5:00PM

CPV 201: Utility Scale Aggregation & Procurement Methods (same as PV 205 and CSP 201)
10/13/2008
1:00PM - 5:00PM

CSP 201: Utility Scale Aggregation & Procurement Methods (same as PV 205 and CPV 201)
10/13/2008
1:00PM - 5:00PM

PV 205: Utility Scale Aggregation & Procurement Methods (same as CSP 201 and CPV 201)
10/13/2008
1:00PM - 5:00PM

Solar Thermal Systems 101: Intro to Technology, Policy & Markets
10/13/2008
7:00PM - 9:00PM

Opening Reception
Tuesday
10/14/2008
8:00AM -10:00AM

Opening Plenary
10/14/2008
10:00AM -11:00AM

Coffee Break
10/14/2008
11:00AM -12:30PM

Public & Private Sector Commercial Projects: Defining Wants and Needs
10/14/2008
11:00AM -12:30PM

A Friction Free Solar Market: How to Get There and What it Offers
10/14/2008
11:00AM -12:30PM

Policy Stories from Abroad
10/14/2008
11:00AM -12:30PM

REC Markets: The Good, the Bad and the Ugly
10/14/2008
11:00AM -12:30PM

The Great Crystalline Silicon Debate
10/14/2008
2:00PM - 3:30PM

How to Monetize Solar Revenue Streams
10/14/2008
2:00PM - 3:30PM

Innovative Whole Building Design
10/14/2008
2:00PM - 3:30PM

Right-Sizing the Inverter to the Application
10/14/2008
2:00PM - 3:30PM

Solar America Initiative - Entering a New Phase
10/14/2008
2:00PM - 3:30PM

Up-date from Washington: The Federal Solar Policy Landscape
10/14/2008
3:30PM - 4:00PM

Coffee Break
10/14/2008
4:00PM - 5:30PM

Financing Commercial-Scale Solar: Realities, Responsibilities, and Returns
10/14/2008
4:00PM - 5:30PM

The Candidates' Solar & Clean Energy Platforms
10/14/2008
4:00PM - 5:30PM

The Great Thin Film Debate: Winning the Hearts and Minds of System Installers and Investors
10/14/2008
4:00PM - 5:30PM

A Growing Worldwide Market: Solar Thermal Heating and Cooling
10/14/2008
4:00PM - 5:30PM

Educating Customers
10/14/2008
7:00PM -10:00PM

Block Party
Wednesday
10/15/2008
8:00AM - 9:00AM

CEO Panel #1: Market Development
10/15/2008
9:00AM -10:00AM

CEO Panel #2: Driving Down Costs
10/15/2008
10:00AM -11:00AM

Coffee Break
10/15/2008
11:00AM -12:30PM

California Solar Electric and Solar Hot Water Initiatives: Review, Update and Forecast
10/15/2008
11:00AM -12:30PM

Financing Residential Solar
10/15/2008
11:00AM -12:30PM

How Broader Financial & Commodity Markets Affect the Solar Market
10/15/2008
11:00AM -12:30AM

Operations Best Practices and Process Improvements for Residential Solar Installers
10/15/2008
11:00AM -12:30PM

State-of-the-Art CPV
10/15/2008
2:00PM - 3:30PM

Financing Utility-Scale Solar Projects
10/15/2008
2:00PM - 3:30PM

Solar and Real Estate Values
10/15/2008
2:00PM - 3:30PM

Solar Thermal Management – Not Just for Heating Water
10/15/2008
2:00PM - 3:30PM

State Policy
10/15/2008
2:00PM - 3:30PM

Workforce Development: What is Needed and Who is Providing It
10/15/2008
3:30PM - 4:00PM

Coffee Break
10/15/2008
4:00PM - 5:30PM

Accelerating Solar on a Local Level
10/15/2008
4:00PM - 5:30PM

Finding Talent and Managing Growth in an Exploding Green Collar Economy
10/15/2008
4:00PM - 5:30PM

Integrating Solar and Energy Efficiency
10/15/2008
4:00PM - 5:30PM

Ratings vs Performance
10/15/2008
4:00PM - 5:30PM

Solar for Production Home Builders: The Differentiation Factor
10/15/2008
6:00PM - 8:30PM

California Solar Initiative (CSI) Forum
10/15/2008
6:00PM - 7:00PM

Solar Photovoltaics (PV) For Home Owners
10/15/2008
6:30PM - 8:00PM

Find Your Solar Dream Job
10/15/2008
7:00PM - 8:00PM

Solar Water Heating for Home Owners
Thursday
10/16/2008
8:30AM -10:00AM

Closing Plenary
10/16/2008
10:00AM -11:00AM

Coffee Break
10/16/2008
11:00AM -12:30PM

2008 and Beyond, the Next Phase in Solar Investing
10/16/2008
11:00AM -12:30PM

How to Mitigate the Risk of Policy Uncertainty
10/16/2008
11:00AM -12:30PM

Innovative Utility Programs
10/16/2008
11:00AM -12:30PM

Long-Term Industry Technology Issues
10/16/2008
11:00AM -12:30PM

Utility-Scale Market Expansion: Paving the Road to Success
10/16/2008
2:00PM - 3:30PM

Affordable Housing
10/16/2008
2:00PM - 3:30PM

An Approaching Paradigm Shift: Utility Engagement in the Solar Value Chain
10/16/2008
2:00PM - 3:30PM

Optimizing PV System Performance
10/16/2008
2:00PM - 3:30PM

Technology & Regulation: How to do it Right
10/16/2008
2:00PM - 3:30PM

Vertical vs Virtual Integration Debate
10/16/2008
3:30PM - 4:00PM

Coffee Break
10/16/2008
4:00PM - 5:30PM

Great Incentive Debate: Feed-in Tariffs, Solar RECs / RPS Carve outs, REBs, Tax Credits, Rebates, and the Kitchen Sink
10/16/2008
4:00PM - 5:30PM

Impacts of High Solar Penetration
10/16/2008
4:00PM - 5:30PM

State-of-the-Art CSP
10/16/2008
4:00PM - 5:30PM

The Future of the Solar Industry: A Look Into Analysts' Crystal Ball
10/16/2008
4:00PM - 5:30PM

The International Language: Money
Friday
10/17/2008
8:00AM -12:00PM

PV 208: Legal Contracting Bootcamp
10/17/2008
9:00AM - 4:00PM

Commercial Solar Tour
10/17/2008
9:00AM - 4:00PM

PV 102: Grassroots Organizing and Media Training
10/17/2008
9:00AM - 4:00PM

PV 207: Integrating Solar and Energy Efficiency (same as Solar Hot Water 201)
10/17/2008
9:00AM - 4:00PM

PV 210: Commercial Solar Economics & Financing with PPAs and Leases
10/17/2008
9:00AM - 4:00PM

Solar Hot Water 201: Integrating Solar and Energy Efficiency (same as PV 207)