TIS-SF-777 laser support - e-mail or call us if you need support

Flagship model of 15-kHz-linewidth CW Ti:Sapphire laser TIS-SF-777

There may be two main reasons why laser power drops:
1. pollution of optics
2. misalignment of thick etalon
So one need to clean optics and to adjust thick etalon. After optics cleaning one needs to check adjustment of thick etalon (shown on a scheme below). Thick etalon mounting has four fixing hex-bolts on the one side and these bolts allow to adjust the one prism of the etalon relative to another prism. One needs to tighten these bolts in such a way so as to obtain no fringes on the reflected picture from etalon. In any case one needs to remove thick etalon from laser resonator and check its adjustment. For simplification of the procedure we recommend to mark position of the etalon holder in the resonator (you can do it with fine pencil-point, it is enough to outline the holder on base plate by pencil). It will help to set etalon in the same position after procedure of re-adjustment. So, you can remove etalon from ring cavity and set it back in ring cavity and laser will generate if you will set etalon in approximately the same position. Concerning procedure of adjustment: one needs to tighten bolts of etalon quite strongly. And itís necessary to keep in mind the following: in principle, sometimes alignment of the thick etalon has small "drift" during some short time after the alignment, therefore we advise to adjust the thick etalon and wait for half of day. After that check etalon alignment and if it's still OK, set etalon in laser cavity.

Thick etalon adjustment schematics

Q1: Are these four screws for the adjustment ?
I tried to loosen one of these screws, but it was quite tight!
I felt a bit scary...
A1: yes, these are screws for etalon adjustment. They should be tight very well in order
to keep etalon alignment during long time.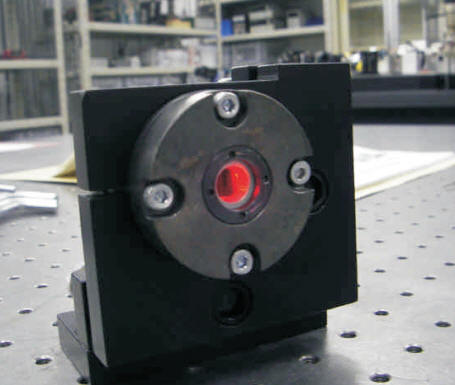 Q2: We irradiated an expanded, collimated He-Ne laser beam onto
the thick etalon with an angle shown by the bold red arrow in the picture below.
And we observed a fringe pattern on the reflected beam shown by the thinner
arrow in the same picture.
Do you think the thick etalon is too tilted against the incident beam?
A2: no, it should be some angle between input and reflected beams in order to you
can observe a fringe pattern. So everything is OK. How many fringes you saw?
President and CEO of Tekhnoscan Sergey Kobtsev and President and CEO of Del Mar Photonics Sergey Egorov
shaking hands after reaching partnership agreement during Photonics West 2007 in San Jose, California