The ARMOR X7
Rugged, Handheld Tablet request a quote
Specifications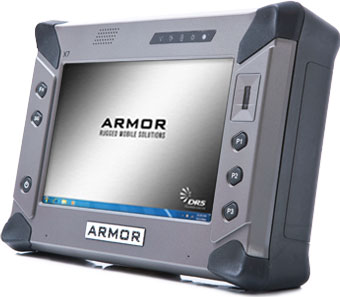 The ARMOR X7, a handheld tablet computer that's small in size and weight but big on ruggedness.
The ARMOR X7 is lightweight, has a sunlight-readable display and is loaded with connectivity features, so it's ideal for a range of on-the-go computing needs. It's also rugged enough to stand up to the most demanding environments. The X7 is rated MIL-STD-810G for extremes in vibration, shock and drops from six feet. Plus it's highly resistant to both dust and moisture, earning an IP65 rating for ingress protection.
The ARMOR X7 Compact Rugged Tablet request a quote

Introducing the ARMOR X7, a compact tablet computer that is small in size and weight but big on ruggedness. The ARMOR X7 is loaded with the features you want in a lightweight mobile tablet like a range of WWAN/Cellular connectivity options, Bluetooth® wireless, integrated GPS and full 802.11 a/g/n WiFi connectivity.

The X7 is also rugged enough to stand up to the most demanding environments. It's rated MIL-STD-810G for extremes in vibration, shock and drops from six feet. Plus it's highly resistant to both dust and moisture, earning an IP65 rating for ingress protection.

The ARMOR X7's small form factor, built-in hand grips, sunlight-readable 7-inch display, and 2.8-pound weight make it ideal for any task that requires continual data entry or information exchange, mobility, ease of use and a high degree of durability.

Features:
Lightweight and compact
A wide range of WWAN connectivity protocols
Integrated 802.11 a/g/n WiFi, Bluetooth and GPS
Intel® N450 Pineview-M 1.66 GHz Single Core Processor with Intel Speedstep®
7-inch WSVGA , Sunlight-readable, dual mode display
Hot-swappable batteries
Sealed, fanless design
Certified to MIL-STD-810G and IP65
Request Armor X7 for use with in mobile applications of femtosecond laser and other products from Del Mar Photonics, such as
Terahertz Spectroscopic Radar
A new 100 m standoff Terahertz Spectroscopic Radar (TSR) addresses the U.S. Army need for new techniques for detecting concealed explosives.TSR uses terahertz (THz) molecular spectroscopy to detect the unique THz absorption wavelength signature of an explosive's outgassed material. This design exhibits the most decisive identification pattern of explosives, whose molecular vibration modes lie in the THz region. To detect these specific explosive identifiers, TSR's innovative design analyzes the retroreflected THz signals from targets rather than the transmitted THz signals common to the conventional spectroscopy performed inside a laboratory. The TSR design combines a wideband (1-20 THz) transmitter and a receiver spectrometer, built on a mobile station. Using a high-quality submillimeter wave radar to send high rep-rate (~100 MHz) THz probing pulses, we can identify not only the explosive but also the location of the target with spatial resolution better than 0.03 mm since our radar pulsewidth is faster than 100 femtosecond (fs). The average power of our source is exceptionally high (~100 W) compared with any other THz sources.

IntraStage lowers the cost of test data management!

Struggling with gigabytes or terabytes of test data?
IntraStage easily transforms test data from disparate sources into web-based quality metrics and engineering intelligence you can use.

Contact us today to discuss your test management requirements and specifications of your application.

Del Mar Photonics featured components
Del Mar Photonics continuously expands its components portfolio.


Solar Prisms for Concentrating Photovoltaic Systems (CPV)
Solar cells made of compound semiconductors such as gallium arsenide are very expensive. Usually very small cells are installed and various means such as mirrors, lenses, prisms, etc..are used to concentrate sunlight on the cells. Concentration photovoltaic technology (CPV) uses the solar radiation with an efficiency of 40%, double that of conventional solar cells
Del Mar Photonics design custom Concentrating Photovoltaic Systems (CPV) and supply variety of the optical components for CPV such as solar prisms shown in the picture.



Axicon Lens
Axicon lens also known as conical lens or rotationally symmetric prism is widely used in different scientific research and application. Axicon can be used to convert a parallel laser beam into a ring, to create a non diffractive Bessel beam or to focus a parallel beam into long focus depth.
Del Mar Photonics supplies axicons with cone angles range from 130° to 179.5° for use with virtually any laser radiation. We manufacture and supply axicons made from BK7 glass, fused silica and other materials.

download brochure - request a quote
Rutile (TiO2) coupling prisms
Del Mar Photonics offers optical elements made of high quality synthetically grown Rutile Titanium Dioxide crystals. Rutile's strong birefringency, wide transmission range and good mechanical properties make it suitable for fabrication of polarizing cubes, prisms and optical isolators. Boules having high optical transmission and homogeneity are grown by proprietary method. Typical boules have 10 - 15 mm in dia. and up to 25 mm length. Optical elements sizes - from 2 x 2 x 1 mm to 12.7 x 12.7 x 12.7 mm. Laser grade polish quality is available for finished elements. So far we the largest elements that we manufactured are 12 x15 x 5 mm, in which optical axis is parallel to 15 mm edge, 5 mm is along beam path, 12 x 15 mm faces polished 20/10 S/D, one wave flatness, parallelism < 3 arc.min. (better specs. available on request).

more details - download brochure - request a quote - properties incl. refractive index


Sapphire components
Sapphire Circular Windows - Square & Rectangle - Rods
Sapphire & Ruby Rings - Sapphire & Ruby Balls - Sapphire & Ruby Nozzles
Sapphire Lenses - Ball & Seat - Special Products - Sapphire Vee & Cup Jewels
Sapphire Ceramics - Ceramic Sleeves - Ceramic Holes - Ceramic Rods
Sapphire & Ruby Orifices - Sapphire & Ruby Tubes - Sapphire Components
Sapphire Half Round Rod - Sapphire Windows - Rods & Tubes - Special Part
Sapphire Prism - Sapphire Chisel - Sapphire Square Rod

Vacuum viewport
Del Mar Photonics offer a range of competitively priced UHV viewports , Conflat, ISO or KF including a variety of coatings to enhance performance. Del Mar Photonics viewports are manufactured using advanced techniques for control of special and critical processes, including 100 percent helium leak testing and x-ray measurements for metallization control. Windows Materials include: Fused silica, Quartz , Sapphire , MgF2, BaF2, CaF2, ZnSe, ZnS, Ge, Si, Pyrex. Standard Viewing diameters from .55" to 1.94 ".
Coating - a range of custom coatings can applied - which include
- Single QWOT
- Broad Band AR
- V coatings
- ITO
- DLC (Diamond like coating)

more details - request a quote


NARROW-BAND HOLOGRAPHIC FILTERS are intended for suppression of powerful beams in research and in engineering, in particular, in laser spectroscopy, and also for protection from blinding and damaging by laser radiation various photo receiver devices and operator's eyes.

Unlike conventional interference filters, which are made by vacuum evaporation techniques, holographic filters are fabricated by recording interference patterns formed between two mutually coherent laser beams. Since all layers are recorded simultaneously within a thick stack, the optical density of the notch filter is high and its spectral bandwidth can be extremely narrow. Also, since the layering profile is sinusoidal instead of square wave, holographic notch filters are free from extraneous reflection bands and provide significantly higher laser damage thresholds.

Hydrogen Thyratrons are used in such devices as radars with different power levels, high-power pulsed technical, electrophysical, medical devices and lasers. Sophisticated design and high quality ceramic-metal envelope determines long lifetime and very accurate and reliable operation of hydrogen thyratrons under wide range of environmental conditions.
Applications:
- radars
- pulsed lasers power supplies
- medical apparatus
- electrophysical instrumentation

Triggered Three-Electrode Spark Gap Switches are ceramic-metal sealed off gas discharge trigatron-type devices with a co-axial trigger electrode. These Gas Discharge Tubes contain no mercury and, due to an advanced design, feature high reliability and a long lifetime being operating under wide range of environmental conditions.
Applications:
- pulsed installation for processing materials
- installations with plasma focus
- pulse power supplies for lasers and other pulse equipment
- medical apparatus such as lithotriptors and defibrillators
- processing systems for petroleum wells



Trigger Transformers
Del Mar Photonics supply trigger transformers for triggered spark gaps and other applications. Contact us to today to discuss your application or requesta quote.
Trigger Transformers are used to provide a fast high voltage pulse up to 30kV/µs and more. This high voltage pulse is applied to the trigger electrode to initiate switching action in the three-electrode spark gaps. Either positive or negative pulses can be obtained from all of the transformers.

We are looking forward to hear from you and help you with your optical and crystal components requirements. Need time to think about it? Drop us a line and we'll send you beautiful Del Mar Photonics mug (or two) so you can have a tea party with your colleagues and discuss your potential needs.

Del Mar Photonics, Inc.
4119 Twilight Ridge
San Diego, CA 92130
tel: (858) 876-3133
fax: (858) 630-2376
Skype: delmarphotonics
sales@dmphotonics.com