Del Mar Photonics - Newsletter
Actively frequency-stabilized, continuous-wave, single-frequency ring Dye laser, model DYE-SF-077
request a quote

Unique DYE-SF-077 laser has more narrow linewidth for Dye lasers on the present market.
DYE-SF-077 laser has super-narrow linewidth (< 100 kHz) and unique Auto Re-lock function which is extremely useful in a work with frequency stabilized laser.

General description
· Ring design, three wavelength selectors: birefringent filter, thin and thick etalons, electronically controlled thick etalon to ensure laser operation in a single longitudinalcavity mode.
· Ultra-narrow line width up to < 100 kHz/sec rms: active frequency stabilization to an external reference cavity, special fast PZT actuator with extended response bandwidth.
· Unique function Smart Auto-Relock that allows uninterrupted laser operation in the frequency stabilisation mode under arbitrary external perturbations.
· Actively thermostated high-finesse reference cavity, frequency drift <40MHz/hr.
· External lock capability for stabilization to an absolute reference (e.g. iodine saturated absorption line).

Wavelength range, power
· Laser optimized at factory for primary operation wavelength at 630 nm (please indicate if you need different wavelength to be optimized!)
· Output power at 620-640 nm 1W or better with 8W pump (DPSS, 532 nm, TEMoo).
· TEMoo mode, linear polarization.

General design
· Absolutely dry dye-jet laser: the laser has a reliable shutter for the dye solution during powering up and switching off the circulation system.
· Most of the mounts are placed on a horizontal base plate, which is also the top element of the compact rigid 3-D frame made from three invar rods that ensures high stability of the optical element positions.
· Ease of adjustment, simplified laser alignment in the ring configuration because of preliminary optimisation of the elements in the linear cavity, exceptionally accurate alignment of the pump beam position.
· Premium sapphire nozzle.
· Enclosed cavity with nitrogen purge port.
· Ergonomical and reliable electronic control unit featuring a built-in generator for smooth scanning of the laser frequency.

Dye Circulation System
· Compact and powerful system of dye solution circulation with a leak-free magnetically coupled pump.
· Efficient system for suppression of pressure fluctuations in the dye circulation loop.
· The dye solution circulation system of DYE-SF-077 is designed to make the procedure of dye change convenient and clean. Laser DYE-SF-077 may be shipped with several circulation systems, in which case switching between working spectral ranges will be extremely fast and simple.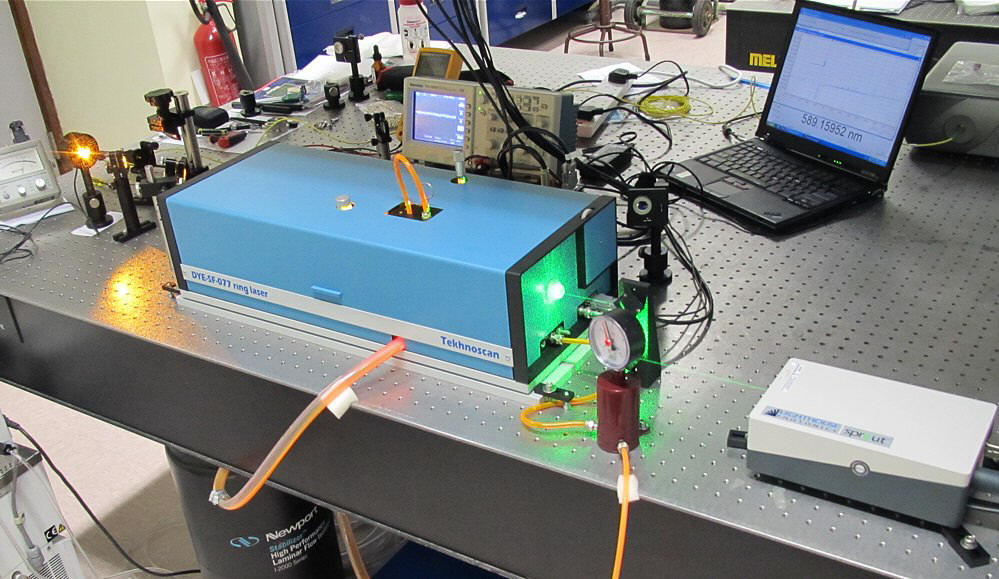 Specifications:
Actively frequency-stabilized, continuous-wave, single-frequency ring Dye laser, model "DYE-SF-077":
Wavelength range: 620-640 nm
Linewidth: < 100 kHz/sec rms
Output power: > 1W@630nm at 8W pump (532 nm, TEMoo)
Smooth scanning: > 6 GHz
Frequency drift: < 40 MHz/hour
Polarization: horizontally polarized output
Auto-Relock function, external lock capability for stabilization to an absolute reference
Price of the DYE-SF-077 with above mentioned specifications, including delivery, installation, training and 12-months warranty period - request a quote

Alternatively, we can offer
Continuous-wave, single-frequency ring Dye laser, model "DYE-SF-07":
Specifications:
Wavelength range: 620-640 nm
Linewidth: < 10 MHz/sec rms
Output power: > 1W@630nm at 8W pump (532 nm, TEMoo)
Smooth scanning: > 6 GHz
Polarization: horizontally polarized output
Price of the DYE-SF-077 with above mentioned specifications, including delivery, installation, training and 12-months warranty period: request a quote

Trestles LH10-fs/CW laser system at UC Santa Cruz Center of Nanoscale Optofluidics

Del Mar Photonics offers new Trestles fs/CW laser system which can be easily switched from femtosecond mode to CW and back. Having both modes of operation in one system dramatically increase a number of applications that the laser can be used for, and makes it an ideal tool for scientific lab involved in multiple research projects.
Kaelyn Leake is a PhD student in Electrical Engineering. She graduated from Sweet Briar College with a B.S. in Engineering Sciences and Physics. Her research interests include development of nanoscale optofluidic devices and their applications. Kaelyn is the recipient of a first-year QB3 Fellowship. In this video Kaelyn talks about her experimental research in nanoscale optofluidics to be done with Trestles LH laser.

Reserve a spot in our femtosecond Ti:Sapphire training workshop in San Diego, California during summer 2011


Frequency-stabilized CW single-frequency ring Dye laser DYE-SF-077 pumped by DPSS DMPLH laser installed in the brand new group of Dr. Dajun Wang at the The Chinese University of Hong Kong.
DYE-SF-077 features exceptionally narrow generation line width, which amounts to less than 100 kHz. DYE-SF-077 sets new standard for generation line width of commercial lasers. Prior to this model, the narrowest line-width of commercial dye lasers was as broad as 500 kHz - 1 MHz. It is necessary to note that the 100-kHz line-width is achieved in DYE-SF-077 without the use of an acousto-optical modulator, which, as a rule, complicates the design and introduces additional losses. A specially designed ultra-fast PZT is used for efficient suppression of radiation frequency fluctuations in a broad frequency range. DYE-SF-077 will be used in resaerch of Ultracold polar molecules, Bose-Einstein condensate and quantum degenerate Fermi gas and High resolution spectroscopy

Training Workshops