Del Mar Photonics - Newsletter Winter 2010 - Newsletter April 2011
Actively frequency-stabilized CW single-frequency ring Ti:Sapphire laser TIS-SF-777
request a quote

Unique TIS-SF-777 laser has more narrow linewidth for Ti:Sa lasers on the present market. TIS-SF-777 laser has super-narrow linewidth (< 5 kHz/sec) and unique Auto Re-lock function which is extremely useful in a work with frequency stabilized laser.






General description
· Ring design, three wavelength selectors: birefringent filter, thin and thick etalons, electronically controlled thick etalon to ensure laser operation in a single longitudinalcavity mode.
· Ultra-narrow line width up to < 5 kHz rms (1 sec): active frequency stabilization to an external reference cavity, special fast PZT actuator with extended response bandwidth.
· Unique function Smart Auto-Relock that allows uninterrupted laser operation in the frequency stabilisation mode under arbitrary external perturbations.
· Actively thermostated high-finesse reference cavity, frequency drift <40MHz/hr.
· External lock capability for stabilization to an absolute reference (e.g. iodine saturated absorption line).

Wavelength range, power
· Laser optimized at factory for primary operation wavelength 780-800 nm
· Output power at 790nm+/-10nm 1.8W or better with 10W pump (DPSS, 532 nm, TEMoo).
· TEMoo mode, linear polarization.

General design
· Most of the mounts are placed on a horizontal base plate, which is also the top element of the compact rigid 3-D frame made from three invar rods that ensures high stability of the optical element positions.
· Ease of adjustment, simplified laser alignment in the ring configuration because of preliminary optimisation of the elements in the linear cavity, exceptionally accurate alignment of the pump beam position.
· Premium Ti:Sapphire crystal (FOM > 500).
· Enclosed cavity with nitrogen purge port.
· Ergonomical and reliable electronic control unit featuring a built-in generator for smooth scanning of the laser frequency.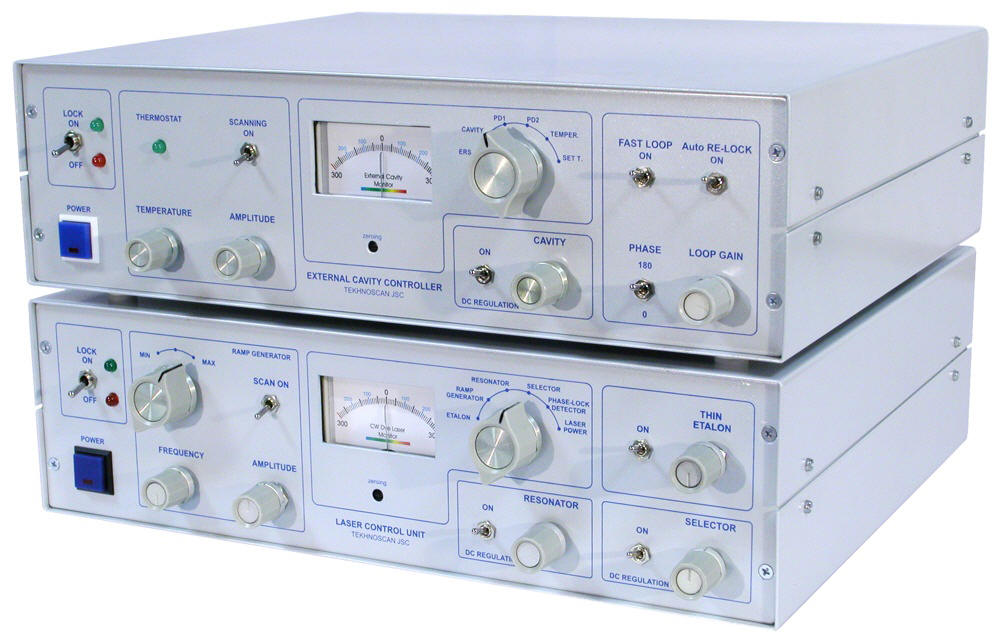 Specifications:
Actively frequency-stabilized, continuous-wave, single-frequency ring Titanium-Sapphire laser TIS-SF-777
Wavelength ranges: 750-850 nm
Linewidth: < 10 kHz/sec rms
Output power: > 1.8W@790+/-10nm at 10W pump (DPSS 532 nm, TEMoo)
Smooth scanning: > 5 GHz
Frequency drift: < 40 MHz/hour
Polarization: horizontally polarized output
Auto-Relock function, external lock capability for stabilization to an absolute reference

Price of the TIS-SF-777 Ti:Sapphire laser with above mentioned specifications, including installation, teaching and 12-months warranty period: request a quote

Accessories & Options:
Extra optics set (695-770 nm or 850-950 nm or 950-1050 nm) - request a quote
Smooth scanning > 18 GHz: request a quote

Frequency-stabilized CW single-frequency ring Dye laser
Resonant Frequency Doubler for CW Single-Frequency Lasers FD-SF-07
CW narrow-line Autoscanned Laser System T&D-scan

Trestles LH10 fs/CW laser system